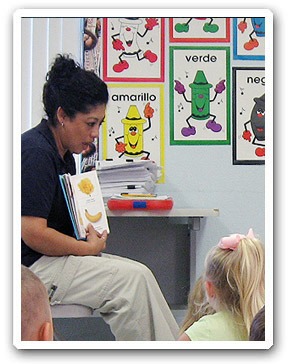 Heritage Learning Center offers many early childhood education classes in McKinney, TX!
Spanish: Preschool and Pre-K students attend daily classes at no additional charge.
Homework Assistance: Available Monday through Thursday for our Kindergarten through Fifth Grade students in a separate quiet room.
Field Trips: School Age students attend field trips throughout the school year and during the entire summer.
Summer Activities: Playing in our very own large above-ground computerized water spray park, puppet shows, magicians, and more!
---
Early Childhood Education Classes Available In Mckinney, TX for an Additional Fee
STEM Coding Robotics & Game Design: Harvard/MIT inspired EZ Creative Coding class instilling a love for STEM (Science, Technology, Engineering, and Math) careers in young girls & boys.
Dance: Dance classes are available during the school year only.  In late May or early June, students participate in a grand dance recital at one of the area high schools.
Cran!um Kids:  "Cran!um Kids believes that computers can be an important tool for early learning if used correctly. Students enrolled in the program are exposed to the latest in education-based software, hands-on learning, and age-appropriate curriculum delivered in a fun and creative way."
Karate:  Train and educate children in the life skills of courtesy, honesty, responsibility, and self-control.  Memorizing movement patterns, breaking boards, and playing games are some of the activities in karate class.
TOT Basketball: Facilitates a fun, large motor skill class. Preschool and Pre-K students practice basketball dribbling and handling skills that mix both academics and athletics. Students in TOT participate in a mid-year and end of the year team performance.
Soccer Shots: "Teaches basic soccer skills and develops coordination, balance, and agility in each child, giving them a head start in their athletic endeavors."
Fun Bus:  The Fun Bus is a full-size school bus equipped with child size fitness equipment that provides a child with a lot of FITNESS FUN. It is open to Early Preschool, Preschool, and Pre-K students.
Piano Lessons: Piano instruction provides children opportunities to develop physical coordination, timing, memory, visual, auditory, and mathematical skills.
For more information, including pricing, please check out the flyers in the front office lobby.
Heritage Learning Center | Additional Programs | McKinney, TX