Heritage offers a full day, quality learning program. Most classes are open from 6:30am-6:00pm, Monday through Friday. Active instruction time is between 8:30am and 5:30pm with table manipulatives and group game time before and after active instruction. A description of each preschool class at Heritage is below.
Class Descriptions
Heritage does not offer infant care; however, it is advisable to come in for a tour before your child reaches 18 months. The sooner you add your child's name to our waiting list (which is free) you are more likely to have a guaranteed spot in the Little Primers room which typically stays full.
Little Primers or LP (At least 18 Months Old)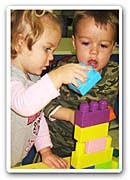 No longer babies, one and a half year olds are anxious to explore the world around them. They seek nurturing relationships to reassure them that they are safe in the absence of loved ones from home. The educational focus in this class centers around developing listening and social skills, following directions and routines, and building vocabulary through stories and songs which are taught using the Frog Street Press Toddler curriculum. Class Dojo is used for communication in the classrooms.
Early Preschool or EPS (2 Years Old by Sept. 1st)
Each day is a new adventure for this age group. Curiosity and energy levels are at an all time high and so is the potential for learning by association. Throughout the year these children are introduced to a variety of language, math, and science concepts. In addition to academic concepts, assisting our Early Preschoolers in understanding and using good social skills are heavily emphasized using the Frog Street Press Toddler curriculum. ClassDojo is used for communication in the classrooms.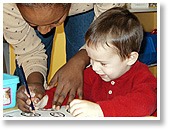 Preschool or PS (3 Years Old by Sept. 1st)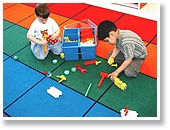 Upon entering this class, children have matured, obtained more self-help skills and are making the shift towards complete autonomy. Teachers continue to encourage fine motor skill activities that are necessary for reading and writing. The children begin to practice writing their name, the alphabet and numbers implementing the Frog Street Curriculum. "All literacy instruction is based on the National Early Literacy Report to ensure a strong foundation for reading skills." Preschoolers begin this year attending a separate Spanish class daily.
Pre-Kindergarten or Pre-K (4 Years Old by Sept. 1st)
The final year of preschool is designed to prepare the child to enter public school with confidence and a desire to learn. Cognitive as well as social and emotional skills continue to develop as we encourage independence and adaptability to new environments and experiences. The children will see how the number, letter, shape, and color concepts taught in their classroom translate into their everyday lives. In addition, children will continue to develop literacy and phonics skills as we expose the children to the tools necessary for reading by implementing the Saxon Early Learning and Saxon Phonics Curriculum. This curriculum offers "exposure to many interesting concepts, along with a strong emphasis on oral language development and classroom discussion, enhance children's vocabulary acquisition, boost their self-esteem and self-confidence, and prepare them for later school success."
Pre-K students begin attending a guided weekly reading class called Book Club. This club is in a small group setting to help each child learn reading readiness as well as key sight words to further prepare your child for Kindergarten.
In addition, your child will participate in Spanish class daily and a formal Pre-K graduation ceremony at the end of the year.