Learn More About Heritage Learning Center
Our McKinney-based child care center is a family-owned and operated business that has been dedicated to preparing children for success since 1987. We offer high quality child care at affordable prices, with a full time academic program for kindergarten success and multiple licensed directors on staff.
Safety is a top priority at our center, and we have implemented measures such as campus video monitoring and controlled access to classrooms to ensure the safety of all our students. We also have a Blackboard mass notification system in place for emergency communication. Additionally, our billing is transparent and straightforward, with no hidden costs.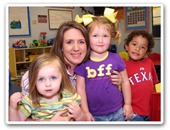 Our classrooms are bright and spacious, and feature customized curriculums including Frog Street Press and Saxon Early Learning and Phonics. We also have a Pre-K guided reading program, a Preschool Letter Club, and daily Spanish instruction. At the end of the year, we hold a formal Pre-K graduation ceremony, and ClassDojo is used in all classrooms to help keep parents informed about their child's progress.
In addition to our academic program, we are also committed to community involvement and have a food collection and recycling program in place. Our staff includes experienced and degreed teachers, and many of them have been with us for a long time – including Chef Shirley, who has been with us since 1993. We also have many ISD teachers and administrators as parents, and our mascot, Murphy, is a beloved presence on campus.
Our School Age Program, called The Clubhouse, is an outstanding program that keeps children entertained and active with six classroom rotations grouped by grade level, art rooms, computer labs, and arcades. We also offer exciting field trips, and provide homework assistance to help children succeed in their studies.
Our campus features a large on-site above ground spray water park, as well as outdoor and indoor recess options. We also have three age-appropriate rubber turf playgrounds for children to enjoy. Our beautiful three acre campus is a wonderful place for children to learn, grow, and have fun.