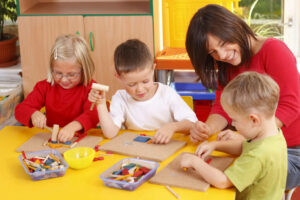 Just because school's out and summer has come doesn't mean it's time to stop learning. A preschooler's mind is continually seeking and absorbing information whether it's summertime or not. In fact, summer is the perfect time to continue learning.
Summer camps provide young learners with an opportunity to foster independence, expand their minds, explore their creativity and just have fun. Not all camps are the same, however, and you'll need to take the characteristics of your child into consideration when selecting which to choose.
Child Readiness
Even though your child may be old enough to attend a day camp, he or she may not be mentally or developmentally ready yet. If your child has never been away from you for long periods of time or doesn't respond well to it, they may be reluctant to go to camp on his or her own.
Children who can follow directions and easily transition from one situation or activity to another are typically able to handle the independence that going to preschool camp requires. Preschoolers who struggle in these areas may not be ready for camp just yet.
Types of Camps
Along with deciding whether or not your preschooler is ready for a half or full day at camp, you'll also need to choose what style of camp you're interested in. Some camps follow specific curricula like Montessori or Reggio Emilia, or they focus on children merely playing and having fun.
Take your preference, along with your child's needs and personality, into consideration when selecting which type of camp in which to enroll your child. If you can, visit each potential preschool camp and allow your child to explore. Ask the teacher questions about the curriculum and if your child would thrive in that type of environment. Doing your homework can mean an enjoyable camp experience instead of one that is traumatic.
Age-Appropriateness
If the camp isn't stimulating enough or is too advanced for your child, he or she likely won't enjoy their time there. Children in preschool need a balance of both high- and low-energy activities, along with plenty of rest thrown in there. Three to five-year-olds typically like activities that require them to use their hands, like arts and crafts or playing in the sand. What's most important, however, is that the child has fun. Including a significant amount of play time during camp is vital to creating a meaningful and fun experience.
At Heritage Learning Center, we know that selecting the right summer camps in McKinney, TX, can seem overwhelming. But with our knowledgeable and nurturing staff and stimulating environment, your child is sure to have the type of preschool camp experience that they will love whilst learning!
Visit our website at https://hlc.info/ or call (972) 782-4464 to learn more about the programs we offer.
Heritage Learning Center | Summer Camps McKinney TX | (972) 782-4464