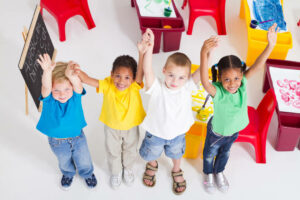 A preschool teacher is often a child's first experience with the formal educational world. These educators create the building blocks for a lifetime of learning. As such, they require patience, compassion and persistence to be able to fulfill their job requirements, while making a positive impact on those they teach.
They also often require a higher level of education, as well as specialized training, to meet most state teaching requirements. If you have a passion for teaching early childhood education, this tough, yet enjoyable, position may be for you. Here, we take a look at the type of training required for preschool teachers.
Educational Requirements
A few different factors affect the type of training that is required to become a preschool teacher. For starters, what you need depends on where you live. In Texas, preschool teachers must typically complete an approved teacher preparation program in early childhood. Hop over a few states to Kansas, however, and you'll need to complete an approved, in-state educator preparation program at a bachelor's degree level or higher.
Additionally, some states require preschool teachers to receive bachelors degrees that specialize in early education, whereas others only want a bachelor's degree.
The type of education you need may also depend on if the preschool is part of the public school system, or is private, like at a church or home. Often, public school preschool teachers are required to meet higher educational standards than those who teach in the private sector.
Training Requirements
Along with educational requirements, preschool teachers must often complete additional training before a school hires them. Again, the requirements depend on which state you plan on teaching, and whether the school is public or private.
Preschool teachers in public school settings must pass state and/or national competency examinations to demonstrate their knowledge of early childhood education. They must also earn their state teaching license/certification through their state board of education.
Once they have completed the criteria, they can then begin teaching. Private preschools often have different requirements that are often similar to the state regulations.
Selecting the Right Preschool for Your Child
Just like preschools, all children are different. As such, parents and guardians must determine which is best at fulfilling their needs. Often overwhelming, the preschool hunt is one that can cause you to second-guess yourself.
Heritage Learning Center in McKinney, TX, focuses on early childhood education and helps preschoolers foster their love of learning in a positive and stimulating setting. Find out how we can start your child on the right educational path by visiting https://hlc.info/ or calling (972) 782-4464.
Heritage Learning Center | Early Childhood Education McKinney TX | (972) 782-4464