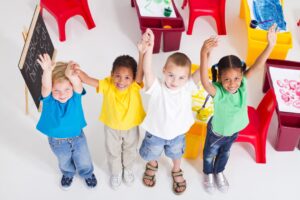 Learning and living an active life rarely coexist when it comes to children's learning activities. However, it does not always have to be one or the other. There are ways to keep your child physically active while learning at the same time! The best child care in McKinney, TX, knows that your son or daughter deserves to experience the joys of childhood, but also should learn the basics when it comes to starting an education. There are three ways to make math and literature fun and active in (our outside) a classroom.
Make Learning a Game
Everything seems fun to a child when a game is involved. When teaching math skills, use objects as counting tools and watch your child hone their abilities! Create a game that requires counting and moving around the classroom. They will not only have experience with tactile and physical lessons, but will learn math lessons without even realizing that they are learning. The best child care centers will make sure that education and enjoyment go hand-in-hand.
Take It to the Playground
Sometimes, the outdoors are the best way to keep children interested in learning. Counting wood chips or counting dandelions can not only be a lesson, but a challenge that kids will want to play again and again. Taking a walk around the playground gives children the opportunity to spell out their favorite things, such as s-w-i-n-g or s-l-i-d-e. Learning from their favorite activities will capture their attention and keep them close to the fun, and the lesson. Even interactive reading allows for kids to become aware of what is being read in addition to the actions that come with it.
Take a Break
No child can be expected to sit for extended periods of time when they are young. Kids will be kids, and they deserve to run around and enjoy themselves at this age. Balancing lesson plans and playground times will ensure that they will get the most out of both their educational time and their play time. Be sure to find a child care center in McKinney that strives to give your kids the best balance between school and play.
Your kid deserves nothing but the best when it comes to early learning centers. Fortunately, there is a
child care
center right in
McKinney, TX
, that will help your child blossom educationally and physically. Visit the Heritage Learning Center to kick-start your child's bright future. Call (972) 782-4464 or visit
https://hlc.info/
.
[osky-citation keyword='Child Care in McKinney TX']