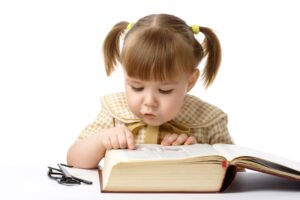 Children begin learning at birth.  They learn that crying can bring food or comfort and they learn to differentiate between the faces they see and the voices they hear.  In fact, children are in an almost-constant state of absorption and processing of information that will determine the future course of their lives – physically, intellectually and emotionally.  That is why formal early childhood education in McKinney TX is so important.  The sooner children can get the kind of stimulation they need to wire their brains in such a way that they become emotionally-centered and intellectually-curious, the better.
Early childhood education in McKinney TX often takes the form of play because it is the easiest way for children to learn and retain information.  Formal early childhood education seeks to guide and direct play in such a way that children have the greatest opportunity to learn the information that is important to their growth.  In fact, many parents who work are now seeking early-learning centers instead of daycare centers that merely keep children safe and fed during the day.  Early-learning centers are usually staffed by people who are not only skilled at taking care of children but who also have educational backgrounds and experience.
The 5 main components of early childhood education in McKinney TX are:
– Social development – addresses children's relationships to and interactions with other people and their ability to empathize, cooperate and share
– Physical development – focuses on developing children's fine and gross motor skills
– Intellectual development – deals with how young children make sense of the world around them
– Creative development – helps children develop through art, music and reading
– Emotional development – focuses on helping children develop self-confidence, self-awareness and understanding feelings
A good early-learning center will incorporate all of these components into their curriculum while at the same time making sure that the children in their care are safe and happy.  At Heritage Learning Center in McKinney, we offer programs for children as young as 18 months old and our programs include instruction in developing listening and social skills, following directions and routines and building vocabulary.  For older Pre-Kindergarten children, ages 2 to 4, our programs include an introduction to science, math, languages and writing practice.  We also encourage continuing autonomy in children as they get older.
If you are interested in early childhood education in McKinney TX for your child, call Heritage Learning Center at (972) 782-4464.  You can also visit us online at hlc.info to learn more about us and to take a virtual tour of our campus.
[osky-citation keyword= 'Early Childhood Education McKinney TX']
Photo Credit: Depositphotos.com/ Kobyakov