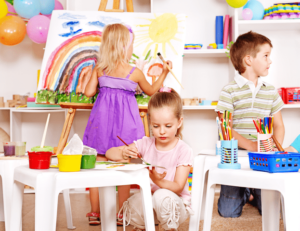 Voted best child care center in McKinney for three years by McKinney Magazine. Heritage Learning Center is the best preschool McKinney TX. Declared "Best Learning Center" in McKinney by Community Newspaper Readers in 2012, Heritage's goal is to provide the highest quality preschool McKinney TX at affordable prices.  Billing is straightforward with no hidden charges. Our well-appointed, spacious classrooms have a wide assortment of toys, games, books, art supplies and computers for a complete learning experience.
We offer four preschool programs.  The Little Primers (LP) program is for toddlers from 18 months to 2 years. Listening and social skills, vocabulary and daily routines are this program's focus. The early preschool (EPS) program, for children 2-3 years old, introduces students to basic language, math and science concepts. Social skills and cooperation are emphasized. Preschool (PS) for 3-4 year olds, emphasizes the refinement of motor skills necessary for reading and writing. A Spanish class is part of the daily curriculum. Pre-kindergarten (PK) for 4 year olds encourages social and cognitive skills. Students learn about colors, shapes, numbers and letters. Teachers stress literacy and phonics skills, and children attend Book Club reading classes. Spanish classes continue.
Our three-acre campus consists of two connected buildings, one for our preschool McKinney TX and the other for elementary school age children (up to grade 5) for before and after care. Our school-age program, called The Clubhouse, provides excellent academic and creative learning experiences for older children.
We have three licensed directors on staff, and all our teachers have degrees or prior teaching experience. Heritage Learning Center staff remain in their positions for years. We have loyal, well-liked teachers dedicated to helping pupils have an enjoyable, satisfying learning experience.
Heritage has separate cushioned playgrounds for tots, preschoolers and school-age kids. For hot summer days, we have a spray water park where kids can keep cool.   Our indoor playroom lets kids exercise during bad weather. Visits from the Tooth Fairy and other special events are held in the Playroom.  The Heritage Learning Center campus is monitored by video camera for the safety of out students and staff. Dance, basketball, karate and music lessons are available for an additional fee.
Call us at 972-548-2757 for more information about enrolling your child in Heritage Learning Center preschool McKinney TX. You can request a tour to see our facilities and teachers before enrolling your child. We offer homework assistance, field trips and summer activities for all students.