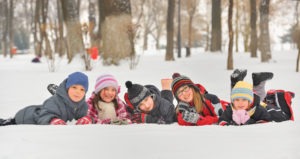 Does the idea of having your children home for spring break fill you with both joy and panic? Do you worry about keeping your children from getting bored while they're on vacation? Brush your apprehension aside and think about the fun award winning childcare activities you can do together. Not only will you be able to add some excitement to their break, you'll create some wonderful memories along the way.
Check out the following list of fun things you can do with your children during their spring break vacation.
Time Capsule
Time capsules are a great way to document what's going on in your children's lives. Get a large tin container, maybe one from your Christmas cookie stash, and fill it with your kids' favorite memorabilia. You can include photos, cards and travel souvenirs. Pack the items tightly into the can and tape it shut. Place the can into a plastic bag to protect it from the elements. Dig a hole in your backyard that's deep enough to fit your container. Place the can into the hole and cover it over with dirt. Be sure to make note of your time capsule's location so that you'll know where to find it when you go to dig it up years later.
Spring Break Scrapbook
What better way for your children to record their spring break memories than with a personal vacation scrapbook? Visit your local department store and look through the craft department for unique scrapbook paper and embellishments. Create a page for each day of spring break. Add movie tickets, photos or any other mementos of the week. Once of the pages have been completed, put them together in a keepsake binder. Be sure to add an interesting cover to the front of the scrapbook.
Talent Show
Talk to your children about organizing a talent show. This is a great way for them to show off their skills and have fun. Decide on a specific day and time so that your children have enough time to prepare their acts. Consider making it a dinner show! They can perform while the audience enjoys some tasty treats. If you have a printer at home, you can even put together a program listing all of the acts and the performers.
Scavenger Hunt
Most children love a good mystery hunt! And being able to actively search for items, well that's much better than looking through pictures in a book. If your hunt includes both the indoors and outdoors, well that would be the best! Choose a theme for your hunt before you begin. Themes will make it much easier to create the hints for your scavenger hunt. List your hints on paper so that your children can check them off once they found the corresponding item. For smaller children, you might want to use picture hints instead of words. If you have trouble putting hints together, do a quick Google search. There are lots of free ideas online.
If you're looking for a fun learning center for your preschool children, contact the Heritage Learning Center at (972) 782-4464 or visit https://hlc.info. A friendly representative will be happy to answer your childcare questions and tell you all about this award winning childcare center in McKinney. Call today!
[osky-citation keyword='Award Winning Childcare McKinney']