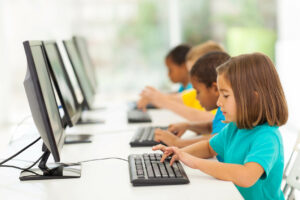 Education doesn't have to stop just because the school day is over. Children can continue to learn, socialize, have fun and thrive at after school programs. Parents and caregivers are steadily choosing this option for their children, especially if they are unable to be home with them after school dismissal.
Quality programs inspire children and get them excited about learning. Along with education, they provide a safe and active environment in which to interact with peers. Selecting the program that meets the needs of your child and family is perhaps the most important factor when making the choice. It doesn't end there, however; you'll also need to research a few other details before registering your child.
Inquire About the Staff
Naturally, you want those responsible for your child to possess the proper training and certification needed to work in this type of environment. One of the first steps of the interview process with a potential after school program is ensuring the organization and teacher meet your state's requirements in the staff's training and education.
Ask about the staff-to-student ratio. Ideally, you'll want to look for one that is low, about one adult per 15 children. Additionally, learn about the program's discipline policy and how teachers resolve conflict amongst the students.
Lastly, don't forget to listen to your gut. You should not have to leave your child in the hands of a staff in which you don't feel comfortable. Instead, find a program you love with a staff you trust.
Learn About the Curriculum and Style
After school programs can vary drastically when it comes to their curriculums and classrooms. Some follow a rigid, academic-based schedule, while others emphasize play and socialization. Whichever approach you choose, it's important to know how the school operates. For instance, how are education time and the opportunity for social activities balanced? Are the children always supervised? Will they have access to an outdoor play area?
Ask yourself what it is you're looking for and then deliver all of the questions you need to feel right about the after school program you select.
Talk About Communication
After school programs typically keep the lines of communication open with parents, enabling them to receive important information, such as behavioral issues in class or praise of your child. The communication styles, however, vary from program to program.
Parents may receive regular emails regarding their children or might only receive notice if there is a problem. Additionally, some program teachers may prefer to meet with parents directly, while others are more comfortable with conducting over-the-phone conferences. Look for a school with a communication style that suits your needs.
Children love to learn, especially in environments that are safe and comfortable and provide new experiences. Heritage Learning Center offers
after school programs
in
McKinney
,
TX
, which provide education, socialization and fun. Call (972) 782-4464 or visit 
https://hlc.info/
 to learn more.
Heritage Learning Center | After School Programs McKinney TX | (972) 782-4464