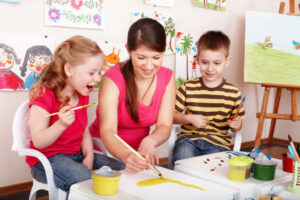 Unfortunately, not everyone has what it takes to become a top-rated preschool teacher. Along with the desire to work with children and help them to expand their minds, preschool teachers often need a little more patience, as well as awareness of cognitive, educational and behavioral goals, than educators of older children typically do.
You, like most parents and guardians, want to enroll your child into the best preschool possible. A school is only as good as its teachers are, and you'll want to look for one that features educators who have the qualities it takes to handle and inspire a room full of little ones.
Flexibility
Although some structure in preschool is valuable, flexibility is critical when teaching little ones. Children are unpredictable and each day will bring a wealth of surprises, from accidents to meltdowns. Being able to roll with the punches and understand that flexibility is required can make all the difference in having a good day, or one that is stressful and filled with frustration, for both the teacher and the students.
A Love for Children
No matter how much training and education a teacher receives, nothing beats an innate desire to love children and help them become their best. You'll want your preschooler to receive instruction from someone who genuinely wants them to succeed and will do what it takes to get there. A teacher who will take their time with your little one and will work with them until they understand. Although enjoying children is a requirement, so is having the understanding and passion for them, as well.
Excellent Communication Skills
As a parent, you want to know what your child is experiencing throughout the day. You'll want to know about behavioral or education issues or achievements, as well as any concerning interactions with their classmates. Knowing what they are learning and the school's curriculum is also ideal. Having a teacher who communicates with you is essential. If not, you may not have any idea that your child needs help or is excelling in a specific area.
The Required Education
Preschool teachers require specialized training and education before they can teach in school settings. Ensure that your child's teacher has the needed requirements before enrolling your youngster. Talk to the school administrators and ask for the teacher's credentials. If you don't feel comfortable with your child's prospective teacher experience, you may want to consider looking elsewhere.
It's natural to want your child to attend the best preschool around. In McKinney, TX, that means enrolling them in Heritage Learning Center. Learn about what we offer and why we feel confident we can help your child, by calling (972) 782-4464 or visiting https://hlc.info/.
Heritage Learning Center | Best Preschool McKinney | (972) 782-4464