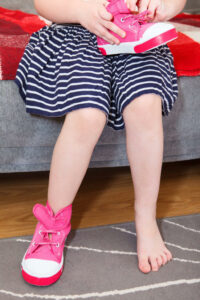 Your child begins to learn how to be independent at an early age. The following guidelines will encourage your child to become more independent through positive and safe activities.
From birth, babies develop a sense of independence. First, they learn to move about and hold things. Then they watch the adults around them and try to model behavior. Their independence growth continues as they develop their emotional, intellectual, social, and verbal skills. You can create a balance between your child's desire to be independent and your need for a safe environment.
Choose Your Battle
If you are experiencing constant battles with your children, consider how important the issue is in the big scheme of things. So long as your children are healthy and safe, provide them with age-appropriate choices in which they have some say.
Provide Options
You can quickly and easily encourage independence and critical thinking in your children by providing options. For instance, give your children a choice of clothing options to wear each day. These choices enable you to have a say over what your children are wearing while giving your children the independence to make their own choices.
Foster Flexibility
As the saying goes, "a tree that does not bend will break." By following this mindset, it is vital to allow for flexibility in your daily routines. Maintain a consistent schedule as much as possible but be prepared for last minute changes that may be necessary.
Be Supportive of Development
You can best support the growth of children by first observing them to discover what skills they already have. Once you have made that determination, provide your children with a new activity that is somewhat more difficult to accomplish. Applying this supportive approach to a variety of skills is essential. For instance, if your children are already capable of sitting down to breakfast and eating independently, consider providing a means for them to pour their own cereal into a bowl or butter their toast.
Set Your Children Up for Success
By keeping your living space well-organized, you can make it easier for your children to move from one activity to the next. For example, provide spaces for their shoes and jackets at a level that your children can reach. Create labeled spaces for all of the toys and manipulatives that your children use. This tip enables your children to put more of their belongings away without your help.
For more information on developing independence through award-winning childcare in McKinney Tx, contact the Heritage Learning Center at 972-548-2757 today!
Heritage Learning Center | Award Winning Childcare McKinney Tx | 972-548-2757