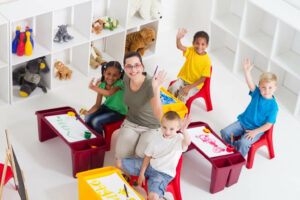 While you are looking for the best preschool program for your child, it's important to keep in mind the learning approach or philosophy each school is using. You will want to choose a preschool that offers a philosophy that best meets the needs of your child.
Montessori Philosophy
The Montessori approach was developed over a century ago by Maria Montessori. This philosophy takes a child-centered approach to learning where teachers act as educational guides. In these preschools, playtime is an integral component of education. Children develop their skills at their own individual pace as opposed to meeting benchmarks based on specific calendar deadlines. The toys and manipulatives available in these learning centers are self-corrective. Children can independently determine whether they have completed an activity correctly. In Montessori preschool programs, the teachers help children find the materials but do not show them the correct solutions. The children work at determining the best solutions at their own pace, in their own time.
This type of philosophy is popular among many parents because their children are able to develop independence and leadership skills. The structure of the program allows children to develop curiosity and self-esteem in solving problems for themselves.
Waldorf Philosophy
The Waldorf approach provides a learning center with teachers certified in the Waldorf philosophy of learning. These centers offer play-based learning, a predictable structure, dependable routines, and mixed age classes. Teachers emphasize creativity through acting, singing, and reading. The program also provides a home-like setting and focuses on cooperation. The Waldorf philosophy is against typical grading and does not use a great deal of media or electronics in its curriculum. Children do not usually get assigned homework nor do they work at desks. A great deal of time is spent outside in the fresh air.
Parents who choose the Waldorf approach appreciate the opportunity for their children to develop individuality. Children who complete a Waldorf program have developed the necessary skills to rely on their own individual abilities to navigate their own learning adventures.
Cooperative Philosophy
Cooperative preschools enable parents to be more involved in their child's early education. Cooperative programs often offer a variety of philosophies but generally focus on resolving problems and cooperation. Parents have the opportunity to assist in running the school and helping in the classrooms alongside teachers. These opportunities enable parents to participate in the learning experiences of their children. Parents who enroll their children in cooperative preschools appreciate the chance to spend more time with their children.
If you are looking for a McKinney preschool program that meets the individual needs of your child, contact the educational experts at the Heritage Learning Center. Call (972) 782-4464 today!
Heritage Learning Center | McKinney Preschool Programs | (972) 782-4464