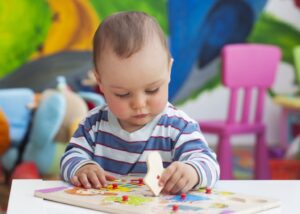 Toddlers develop at different paces and learn best with different teaching methods. When choosing child care in McKinney, TX, make sure it provides activities that complement their different abilities. Teaching young toddlers to count can be quite simple with a variety of methods that make the experience fun and enjoyable. Here are five ways you can teach a toddler to count to 5:
Sing the song "5 Little Speckled Frogs"
Use counting cards along with a game
Match buttons with numbers
Use play dough
Read the story "5 Little Monkeys"
At Heritage Learning Center, we provide an array of activities to help your toddler thrive as they learn and progress. Call us today at (972) 782-4464 to schedule a tour or visit us online at
https://hlc.info/
.
Heritage Learning Center | Child Care in McKinney, TX | (972) 782-4464