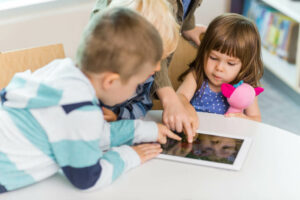 Early education is important for your child as a building block of their future academic endeavors, so finding a preschool that offers award-winning childcare should be a priority for parents. Unfortunately, knowing which elements to look for in a high-quality preschool can be overwhelming. If you want the best education and care for your child, here are a few key elements to look for in a preschool.
Art
Your child may not have much interest in it, but art is proven to promote creativity, independence, and decision-making skills. Painting, coloring, and crafting are usually activities in all childcare facilities, but a high-quality preschool will offer many activities that focus on art.
Opt for a school that encourages open-ended art, which allows children to experiment independently using paint, clay, and other materials. Children will work without direction from a teacher to create artwork, teaching them that there is no right or wrong answer when it comes to how their art should look.
STEM
Another critical element of an award-winning childcare facility is STEM learning. STEM, or science, technology, engineering, and math are crucial topics in today's word. Implementing these subjects when your child is young will increase interest that may follow them throughout their lives.
Of course, STEM education does not involve sitting in front of a computer or learning to do math problems. Young children will be able to focus on science, technology, engineering, and math using games, outdoor play, working on computers and other digital products, and even field trips.
Outdoor Play
Time in a classroom is beneficial, but high-quality preschools understand the importance of outdoor play, as well.
Unstructured time to play outdoors has been scientifically proven to benefit a child's physical and emotional wellness. Sufficient time playing outdoors will also help your child learn how to share and solve problems. Plus, your child will learn socialization skills as they interact with classmates and staff.
Because of its importance, outdoor play should never be neglected due to time constraints or withheld from young children as a form of punishment.
When searching for a preschool that promotes the benefits of outdoor play, make sure to investigate their outdoor play areas. Playgrounds should be equipped with space for running, climbing, swinging, and throwing while being up-to-code with local safety regulations.
A high-quality education should begin early for your child. To learn more about early education with award-winning childcare in the McKinney area, contact Heritage Learning Center at (972) 782-4464.
Heritage Learning Center | Award Winning Childcare McKinney | (972) 782-4464