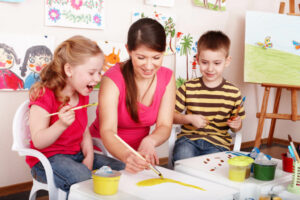 Parenting can be hard especially when it comes time to find the best preschool for your child and family's needs. Thankfully, ensuring you can have a good relationship with your child's teacher will help you find a preschool that is right.
Here are a few tips to build a trusting, compassionate, and friendly relationship with your child's teacher.
Understand
Your child's teacher will understand preschool is new to both you and your child, but you should also show some understanding when it comes to the school, teachers, and other staff.
Be understanding of the different things your teacher will ask of your child. Help your child learn at home by implementing the same rules they use while your child is in preschool.
Also, set realistic expectations for your child. Do not expect your child to learn everything in the first few days of preschool. While you can expect your child to have one-on-one time with the teacher, it's important to understand your child is not the only student in the class.
Support
One of the easiest ways to build a relationship with your child's teacher is to ask if they need any assistance. You may be surprised to learn that even the best preschool will benefit from parent volunteers.
Ask the teacher if they require help during snack, lunch, or naptimes, which can become chaotic with young children. Volunteering to bring in special snacks is also a nice gesture.
Your child's teacher may also enjoy a donation of books, art supplies, or teaching tools. Consider asking the teacher which items they would want and need in their classroom.
Offering this type of support will show you are friendly and willing to show appreciation in times of need.
Trust
Showing that you trust your child's teacher is also important for building a great relationship. No one is perfect, but you should trust the teacher with your child's education and well-being until they give you a reason to doubt them.
It is normal to linger in the classroom on the first day or two of preschool, but it is best to bring your child to the class and leave quickly after their first few days. This strategy not only creates a routine for your child, but it also shows your child and the teacher that you trust them.
Open communication, understanding, support, and trust are key if you want to build a good relationship with your child's teacher. For more information on the best preschool that offers open communication and meaningful relationships with parents, contact the Heritage Learning Center in McKinney at (972) 782-4464.
Heritage Learning Center | Best Preschool McKinney | (972) 782-4464