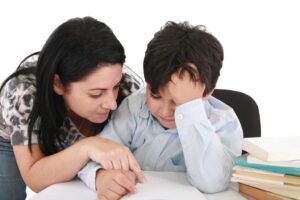 As the award-winning Heritage Learning Academy daycare knows, the key to a child's educational success does not lie solely in the classroom. It is critical that children have a healthy learning environment both at school and at home. For young children, such as preschoolers, it is especially useful to establish a strong learning foundation by continuing good learning practices in a family setting. Here are three easy and engaging ways parents can pursue their children's education at home.
Focus on playtime that's creative as opposed to ample amounts of screen time. While it may be easy to turn on the television and let your child become occupied for hours, activities, like watching TV or playing on the computer, may be stealing valuable time for learning away from your little one. Instead, focus on participating in creative activities with your child. Make art, sing, play, or pretend with your kids. Not only are you spending quality time together, but they are also using their brains to explore the world and engage in interesting conversations.
Get involved in activities at your child's school or daycare. Attending a parent's night, PTA meetings and parent-teacher conferences are great ways to stay up-to-date on what your child is learning and how well they perform in the classroom. If you can't make it to these events, look through your child's take-home folder or notebook and read about what they are learning throughout the year. There may even be "Dear Parent" updates sent home from time to time. Knowledge about their schoolwork and activities will most likely lead you to discussions and explorations of topics that have already been introduced into your child's mind.
Always be encouraging when helping with homework. Though preschool isn't the time for complex algebra and term papers, there will still be times when your little one struggles to complete a worksheet or activity. The best reinforcement is always positive reinforcement. Positive reinforcement doesn't mean you can't correct your child, just be sure to do so in a gentle way and always encourage them to have confidence in their abilities.
Whether you're a stay-at-home parent or employed full-time, we hope these tips will help you and your child grow closer, while also supplying them with the tools and skills to succeed throughout their educational experiences. For more information about preschool programs and how you can get involved in your student's work, visit the Heritage Learning Academy of McKinney, TX online at
https://hlc.info/
or give us a call today (972) 782-4464.
Heritage Learning Academy | Award Winning McKinney Daycare | (972) 782-4464