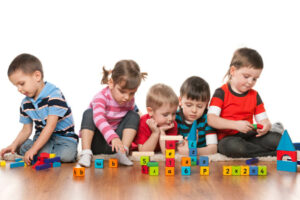 It's never too early to help your child grow, especially when it comes to developing their language skills. Learning to read is a pivotal moment in a child's life, but is easier than ever with the right tools and resources. While you can help your son or daughter at home, taking advantage of the best preschools in McKinney, Texas can keep them curious and interested throughout the whole day. Learning at school and home can be fun and creative while teaching your child a language to help them throughout their lifetime! What can you do to help? There are three main ways to stimulate your child's language learning abilities:
Read – and read often. Whether it's a cereal box, a book, a label, or a lesson, immerse your son or daughter in language. The more they see words around them, the more they will learn. It will give them practice and joy to read the cereal they eat, read the title of a story, or even know what is on labels in the fridge. With help from your child's preschool lessons as well, the alphabet will come easier with time and dedication.
Spell out names. Learning how to spell their name is something that can bring a smile to your child's face. Working letter by letter to sound out and create their own name helps them not only with their language skills, but it will put them on the fast track to recognizing and forming other words! With names of friends, objects, and songs in their preschool classroom as well, spelling out names will open a whole new world of reading.
Work letter by letter. Understanding all 26 letters of the alphabet at one time can be scary, especially for a little one. Working with small groups of letters at a time will help them to become familiar with specific letters before moving on to the next. Rhyming and repetition are ways to teach your child the alphabet while ensuring that they remember what you teach. Ask your preschool what their lesson plan is so you can work with your child at home.
Learning the alphabet does not have to be hard, especially when you have the best preschool in McKinney, Texas to help your child grow and develop their language skills. For the ultimate preschool experience, let the Heritage Learning Center foster your child's ability to learn and grow. For more information, call (972) 782-4464 or visit https://hlc.info/.
Heritage Learning Center | Preschool McKinney Texas | (972) 782-4464