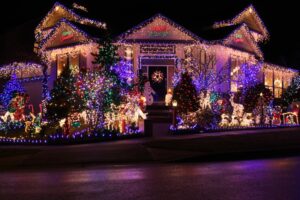 The holiday season has come quickly upon us along with all of the festivities that come with it. There are lots of holiday activities to share with your children in the Dallas / Fort Worth area that will help continue their early childhood education while they are away at winter break.
Below are several activities to enjoy with your children during the holidays.
The Twelve Days of Christmas
Taking place at the Dallas Arboretum between mid-November and mid-January, this event spotlights the infamous characters of the story a Christmas Carol. Your family will be sure to enjoy the pageantry of the display set on magnificently decorated Victorian gazebos.
Highland Park Carriage Rides
Take a ride on a carriage through the spectacular sights in Highland Park. Touring the breathtaking light displays that illuminate the Highland Park homes has been a traditional holiday experience for many years and one you and your family are sure to love.
Scrooge Puppet Theater
Watch a theatrical production at the Scrooge Puppet Theater in the North Park Center. Sure to delight any family, this whimsical presentation is has been a holiday tradition for over three decades. Watch the famous characters of Charles Dickens come to life in this delightful performance.
A Christmas Carol
Visit the Dallas Theater Center to take in a performance of A Christmas Carol. This captivating production highlights many of Dickens characters. The stage is full of the magic and delight of flying ghosts and falling snow. The show regularly sells out so buy your tickets early. This play is recommended for ages eight and up.
North Park Mall Trains
See the elaborate toy train exhibit at the North Park Mall. Featuring 1,600 feet of track, the display spotlights many of the nation's landmarks as the trains set out on a journey through America. Some of the infamous landmarks include the White House and Times Square. Over fifty thousand people visit the display each year with proceeds going to the Ronald McDonald House of Dallas.
Dallas Arboretum Nativity Collection
Take your family to see the Artistry of the Nativity at the Dallas Arboretum. This yearly event displays hundreds of nativity scenes from around the globe. The Arboretum also offers holiday activities including photos with Santa, Rudolph, and Frosty. This event is one that children of all ages will enjoy.
Of course, the most important part of the holiday season is spending time with the people you love. Sharing in these delightful events with family members and friends will provide lots of memories that will last a lifetime.
From all of us at the Heritage Learning Center, we wish you and your family all the best during the holiday season.
Heritage Learning Center | Early Childhood Education Mckinney TX | (972) 782-4464