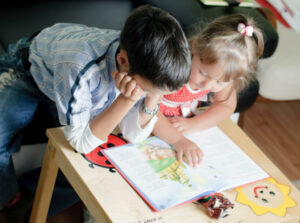 Books are not only a great way to keep children entertained, but they can help them learn at the same time! Educational activity books can boost your child's early learning at preschool programs more than ever before, but buying the right book is crucial. There are countless activity and puzzle books on the market, and you want to make sure your child is learning as much as they can while having fun. Even while away, the best preschool programs in McKinney, Texas know that children under the age of five can balance learning and play time with these five activity books:
"Where's Wally?" Finding Wally in a crazy photo can create hours of fun! Find everyone's favorite geeky character, develop scenarios for other characters in the picture, or create a whole new game entirely! With colorful photographs and rich detail, your kids will experience an endless amount of creativity.
Anthony Browne's books. If your children love animals, the best books will be "Bear Hunt" and "Gorilla." Instead of finding a person like Wally, your children will discover new animal species as they hunt for the right animal in a sea of crazy illustrations. For boys and girls, even preschools in McKinney, Texas know that animal spotting is every child's favorite adventure. And, they get to learn about animals while having fun!
"Would You Rather?" To hone thinking skills and create whacky scenarios, John Burningham's "Would You Rather?" will keep you on the edge of your seat! Would you rather touch a porcupine or eat spaghetti ice cream? Your child's imagination will soar and problem-solving skills will skyrocket as they read through the good, the bad, and the crazy!
"Diary of a Wimpy Kid: Do it Yourself." With great illustrations and room for writing, Jeff Kinney's book will help create confidence and style as your child learns what they like and dislike in the world. Preschools especially offer many life experiences, so writing down your favorite things and relating to embarrassing stuff the character encounters will help your child document their significant events for years to come.
"Halibut Jackson." If your child feels shy or overwhelmed, this book can be relatable. Especially in preschool programs, this book can cater to the kids who prefer quieter lives. With a hero who can blend into his background, children can find Halibut Jackson against a chair, in the park, or anywhere he needs to hide!
Using your brain and your imagination becomes seamless with activity books for your young one. While books help at home, spark your child's learning experiences with the best preschool programs in McKinney, Texas. To place your child in the best early childhood care around, visit the Heritage Learning Center. For more information, visit their website at https://hlc.info/ or call (972) 782-4464.
Heritage Learning Center | Pre School Programs McKinney TX | (972) 782-4464