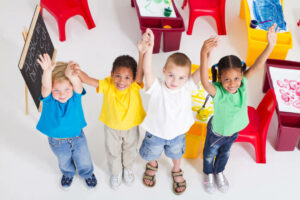 One of the most important skills a child can learn is conflict resolution. Not only will it help them in their preschool class, but it will carry them throughout the rest of their life. It creates a foundation for ethics and social skills that will only help them grow. The best preschools in McKinney, Texas know how to implement resolutions to conflict. What are these steps?
Stay calm. Calming down a child will help them to realize exactly what is happening.
Talk about the problem. Discussing the issue will help the child make connections to what they did.
Apologize. Owning a problem and apologizing will foster responsibility.
Find a solution. Solutions make problems an attainable situation for a child.
Follow up. Talking about the situation afterward keeps the lesson learned.
For a preschool that can foster your child's growth, choose the best in McKinney, Texas. Conflict resolution, among many other skills your child will experience, can be taught at the Heritage Learning Center. For more information, call (972) 782-4464 or visit their website at https://hlc.info/.
Heritage Learning Center | Preschool McKinney | 972-782-4464