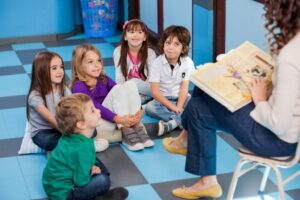 What does shared reading look like in an early childhood education program? Shared reading is an engaging literacy experience that takes place when children share book reading with a teacher or other adult. The educator clearly demonstrates the skills of an effective reader which includes proper expression and fluency. The books used during shared reading activities are typically over-sized and contain enlarged text and pictures.
The Importance of Shared Reading
Shared reading offers valuable opportunities for children to explore the joy of reading. Since shared reading activities take place in small groups, children also develop a sense of community, encouragement, enthusiasm and confidence. Through these types of experiences children are also introduced to a variety of authors, topics and genres.
The Benefits of Shared Reading
There are various approaches to sharing stories with young children. The books can be presented in an informal, playful setting or during a more structured activity. There are many benefits to children from shared reading activities including:
Active participation in literacy
Learning to predict the events of a story
Understanding that pictures can provide clues to the text
Developing a greater vocabulary bank
Discovering and using new reading strategies
Recognizing and identifying letters and sounds and the connections between them
Increasing sight word development
Developing a stronger understanding of phonics
Recalling main ideas and details from stories
Successful Shared Reading Strategies
While shared reading may seem like a rather simple concept, there are specific steps to follow to ensure that the experience is successful for children. The following strategies offer tips on making any shared reading activity as rewarding as possible.
By using the strategy of echo reading, children are provided with the opportunity to actively model effective reading skills. The adult reads a line from the story and the children echo what they hear. The imitation involved in shared reading gives children the confidence they need to read print that they would not be able to read without assistance. This strategy also teaches young children the proper fluency and voice needed to express the story effectively.
Choral reading provides children the opportunity to read aloud along with an adult. This experience helps to reduce anxiety about reading aloud.
The value of shared reading and its impact on child development is undeniable. These types of reading experiences support reading abilities and are perfect for introducing new literature to young children. Children develop positive attitudes towards reading as well as new points of view. Shared stories are a wonderful means to helping children build a love of reading that will last a lifetime.
If you are in need of an Early Childhood Education Program in the McKinney TX area, contact the Heritage Learning Center at 972-782-4464.
[osky-citation keyword='Early Childhood Education McKinney TX']