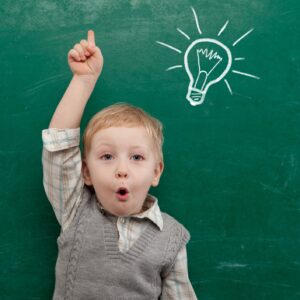 There's always so much pressure on us as working parents to find a place to care for our preschool-aged children during the day.  Many parents turn to babysitters and daycare centers because they don't know that there are alternatives. Childcare doesn't have to mean that your child is simply being watched and fed.  In fact, when your child is cared for at a quality preschool in McKinney TX it can mean that your child is also being nurtured and allowed to learn and grow.
Is preschool really that important?  How much stimulation and interaction do very young children really need?  According to the dean of the Harvard Graduate School of Education, Kathleen McCartney, PhD, there's increasing evidence to suggest that children gain a substantial amount from preschool in McKinney TX.  Not only are children exposed to other children and adults, which allows them to gain verbal and social skills, they're also exposed to concepts like numbers, letters and shapes.  Most also participate in physical activities to keep them healthy and art activities to stimulate their creativity.
In preschool, children don't just move and talk and color, they learn how to be students.  They learn how to take turns, raise their hands and share the teacher's attention.  They learn the importance of compromise  and they learn respect for others.  By the time preschool children get to kindergarten, they've learned some amount of behavior control that smooths out the move to public school.  Many also enter public school with enriched vocabularies and pre-reading skills while some are already able to read, write and do basic math when they get to kindergarten.
One of the most important things preschool in McKinney TX can do for your child is to help them build their confidence and gain a sense of self.  In preschool, they learn to handle tasks themselves like pouring drinks, setting tables, choosing activities.  These little accomplishments can give them a sense of pride that they can build on as they grow. At Heritage Learning Center in McKinney, we want your child to be confident, engaged and happy.  We offer classes for children from 18 months to 4 years old that range from teaching listening and social skills to reading and Spanish language.  To help your child develop coordination and play skills, we have a state-of-the-art water/spray park, three age-appropriate playgrounds and an indoor playroom.
If you're ready to let your child learn and grow in a healthy, nurturing environment, call us at Heritage Learning Center at (972) 548-2757.  You can also visit us online at hlc.info to learn more and to see photos of what our center has to offer.
[osky-citation keyword= 'Preschool McKinney TX']
Photo Credit:  ©Depositphotos.com/ yuryimaging