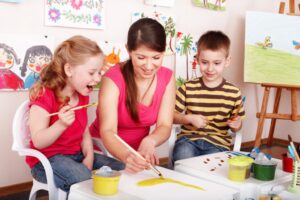 Explaining the concept of germs through an early childhood education program is one of the easiest ways to keep children healthy. While describing germs in simple terms may seem like a difficult task, it is possible to help children understand the basics of good hygiene through several fun activities.
Young children are able to grasp the simple notion of germs. By defining germs as small bugs, it is possible to make a connection between these bugs and getting sick. Older children are able to refer to germs as bacteria. To understand that, a microscope is needed to see these tiny organisms that quickly grow in size and number.
It's important to point out to young children that the spread of germs can be prevented by coughing into a sleeve and by washing their hands several times a day. Children who are learning about germs should repeat the information back to the person providing it, in order to show understanding.
There are several fun activities that can help children develop a better understanding of germs and how good hygiene practices can keep them healthy.
Engaging Songs and Activities
Check online for a variety of fun songs and games that can teach young children about washing their hands. Songs are usually easy to remember, making them a great tool for learning. You can also put a small amount of glitter onto the palm of your child's hands to represent germs. Next, ask your child to wash the glitter away using only cold water. It will be evident fairly quickly that cold water alone won't get rid of the glitter. Explain that the glitter is a lot like germs. They need to be washed away with something stronger. Have your child wash the glitter off with soap and warm water. This time the glitter should easily wash down the drain.
Digital Apps and Games
There are many apps that can be downloaded and online games that can be used to teach young children about the importance of good hygiene. These activities are generally educational and engaging. Children learn a lot about germs while they're having fun.
Dr. Dina Kulik, a pediatric emergency medicine specialist and assistant professor at the University of Toronto's Department of Pediatrics, cautions about being overzealous when it comes to teaching young children about germs. Going overboard in modeling hygiene and germ prevention can lead to problems. She says,"I try not to instill fear, as this can lead to over-washing. If kids think of them as cute little things, like a cartoon, they can understand we need to stay clear of them, but not be fearful."
For an early childhood education program in the McKinney, TX, area that teaches children all about good personal hygiene, contact Heritage Learning Center at (972) 782-4464 today!
[osky-citation keyword='Early Childhood Education McKinney TX']