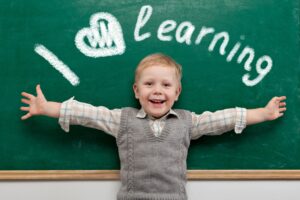 Sometimes, considering preschool for their children sends parents into a panic. They don't like to think of their little ones as school-aged, and it makes them nervous to imagine their children as just a face in a crowd of kids, lost and overwhelmed. Most often, though, the feeling of overwhelm belongs to the parents. Even though early childhood education McKinney TX isn't mandatory, preschool is an option that should be considered. For working parents, it offers a constructive alternative to traditional daycare, and the benefits to the children are plentiful.
Kids Are Like New Computers
Children are born with almost endless developmental potential. The Global Development Research Center (GDRC) compares a newborn's brain to a new computer: with tons of memory just waiting to be filled. According to the GDRC, learning starts at birth, and the most crucial time for teaching your kids is from birth to age 10. You might not be able to picture packing your infant off to preschool, and that's OK. Most preschools don't provide classes for them, but once they begin toddling around, fight the urge to "keep" them babies — it's a losing battle anyway. At 18 months, the benefits of early childhood education McKinney TX preschoolers can garner include developing social and listening skills, the ability to follow directions and learning songs and stories to help build vocabulary. As she matures, your child's preschool education will progress to introduce her to the skills she'll need for reading and writing such as learning the numbers, shapes and colors and the alphabet.
Benefits Into the Future
Preschool can be a way to solve the issue of childcare as well as a positive social experience for your son or daughter, but there are additional, longer-term benefits. According to the National Education Association, kids who attended quality preschools ended up earning an average of $2,000 more each month than kids who didn't go to preschool. Additionally, attending preschool makes it less likely that a child will require special education, have to be held back in school or even get into trouble with the law in the future. Preschool gives kids a firm foundation upon which to build successful lives, too, with studies showing that children who participate in preschool are less likely to drop out of high school, more likely to own a home and tend to stay married longer.
It's understandable to want the best for your children, especially when they're as young as preschool-age. You want a safe, supportive, loving and even fun environment for them to blossom in. Heritage Learning Center offers just such an atmosphere. With caring, experienced or degreed teachers and staff, it's the outstanding preschool you've been looking for. Call Heritage Learning Center today at 972-548-2757 to schedule a tour of the facility and enroll your child in the early childhood education McKinney TX parents trust.
[osky-citation keyword="Early Childhood Education McKinney TX"]
References:
http://www.gdrc.org/kmgmt/learning/child-learn.html
http://www.nea.org/home/18163.htm
Photo Credit: Depositphotos.com/ y u r y i m a g i n g