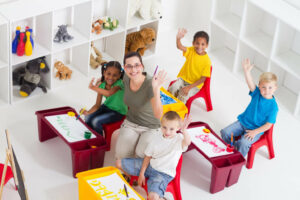 From birth to age five, children develop a myriad of thinking, behavioral and emotional skills that will likely impact the rest of their lives. Every experience or encounter that your little one has in their early life presents a learning opportunity that will teach them something about themselves and the world around them. Since early childhood is such a critical time in your child's life, it's essential to ensure that their learning environment is a positive one. Early childhood education programs like preschools are the perfect place for your child to learn and grow. When it comes time to choose a preschool for your little one, look for a quality facility that focuses on learning through peer interaction; kind treatment from teachers and instructors; and organic, nonforced learning opportunities. Effective, high-quality preschool learning programs can significantly impact your child's life for years to come. Some of the benefits of early childhood education include:
Aquisition of Social Skills. During their time in preschool, kids learn how to engage with both children and adults. They are continually encouraged to develop listening skills, express their ideas, make friends, cooperate, share belongings and take responsibility for their actions. The more children interact with each other at a young age, the better prepared they will be for the social situations they encounter in kindergarten and beyond.
Long-Term Academic Excellence. Typically, children who receive an early education have a reduced need for special education instruction in grade school. A quality preschool learning environment helps preschoolers build a strong foundation in physical, emotional, mental and social development that will continue to evolve throughout their lives. Studies show that students who attend an early childhood education program perform better in grade school than their peers who did not participate in such a program.
Impressive Attention Spans. It's merely the nature of a child to be inclined and curious about understanding new things in their environment. Quality preschool programs facilitate opportunities for children to discover new encounters, experiences, and friends. However, this curiosity is well-balanced with the ability to listen, participate in cooperative group activities, follow directions and work independently. Children who are exposed to such an environment at a young age will likely develop the vital skill of concentration.
Lifelong Love of Learning. Children who participate in early childhood education programs are ultimately more confident and curious than other students, which leads to better performances in school and even in their professional lives. During preschool, kids learn how to conquer challenges and build resilience. They can settle into new educational environments quickly, which allows them to start learning faster. Finally, these children develop and maintain a lifelong interest in learning different skills and hobbies that will carry them throughout their educational years and into their careers.
Furthermore, some studies have concluded that preschool programs increase the likelihood of children finishing high school with minimal behavioral issues, attending college and becoming successful young adults.
If you're looking for a quality early childhood education program for your little one, Heritage Learning Center in McKinney is the place for you! We offer a range of programs for children 18 months to four years. With daily Spanish instruction, guided reading programs and more, your child will be exposed to the tools they need to succeed in a welcoming and positive learning environment. For more information, visit us online at https://hlc.info/ or give us a call today (972) 782-4464.
Heritage Learning Center | Early Childhood Education McKinney TX | https://hlc.info/