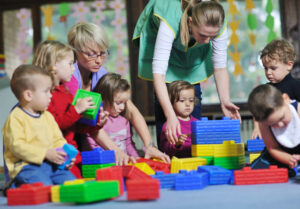 Preschool is often a child's first experience with the educational system. This is the time they will interact with teachers and other students and begin to develop the educational and social building blocks that will stay with them throughout their lives. With that said, selecting a preschool for your little one is a big responsibility. When you know what to look for, however, the process is easier.
Decide on a Philosophy
You might think that when it comes to preschools, they are one size fits all. This, however, is not the case. During your search, you may see that some schools focus on certain subject matters, like music and arts, while others may emphasize other areas of study, such as a foreign language.
You will also likely find that preschools are listed as "academic" or "play-based." As the name implies, a preschool that is centered on academics is usually fairly structured and topics like letter recognition and telling time are covered. The preschool may look like a standard classroom and children spend a good amount of time focusing on education.
A play-based preschool allows students to select their activities based on their current interests. The room is typically divided into areas that focus on a certain subject. For instance, you'll likely find a kitchen or home area, a reading nook, tables to complete work and crafts, a block area and so on. Although children likely still learn numbers and letters, they are also working on social skills during their playing time.
Children that do better in a quiet, more structured setting, may do better in an academic-based program. Preschoolers who like to engage with others and thrive in a play setting will likely benefit from this type of program.
Do Your Research
Along with providing social skills and academics, preschools are also responsible for childcare. To ensure your youngster gets the proper care, it's important to do your research. Ask those you trust to recommend a preschool, or contact the Child Care Aware hotline or the National Association for the Education of Young Children. They can provide you with a list of licensed or accredited preschools in your area. Although licensing and accreditation don't always ensure a quality preschool, they are typically signs of adequate care.
Know Your Budget
No matter how much research you do, it will all be for naught unless you first determine your budget. Visiting schools that are out of your price range is not only a waste of time, but can leave you feeling disappointed if you aren't able to afford them. Creating a budget before you start your search can prevent this frustration and allow you to focus on the schools you can afford, instead of spending time on those you can't.
Heritage Learning Center offers quality education and childcare in McKinney, TX. Call (972) 782-4464 or visit https://hlc.info/ to learn more about the programs we offer.
Heritage Learning Center | Childcare McKinney | (972) 782-4464