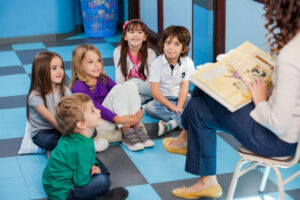 Starting grade school is a wonderful time for young children as they begin to develop their motor skills and independence. As these skills develop, kindergarten teachers expect children to be able to complete class activities with less help. They also expect their students to follow the classroom rules and routines and to be able to take on more responsibilities. You can help your child prepare for grade school at home by following some basic steps.

Kindergarten Expectations

The following list of expectations will help you in preparing your children for the expectations of the first year of grade school.

Identify the alphabet letters

Grip a writing tool

Print his or her name

Count from one to ten

Bounce a ball

Sort objects by size, shape and amount

Speak in full sentences

Recognize simple print words

Identify words that rhyme

Use craft tools such as scissors, paint, and glue

Say his or her name, phone number, address and birthday

Play independently for about ten minutes

Play with a friend for about ten minutes

Use the bathroom independently

Get dressed

Follow simple instructions

Clean up

Listen to stories without interrupting




Leave parents easily
While the curriculum in each school may differ, the subject content goals will be similar. Your children will be expected to build their pre-reading, math, discovery, printing, listening and communicating abilities. You can help your children by providing them with opportunities to practice these skills while they are at home. In Kindergarten they will be expected to develop the skills listed below.
Recognize, identify and print the alphabet in both lower and uppercase

Know the sounds associated with the letters

Use the initial sounds in words to read basic printed text

Identify several simple sight words

Recognize words that rhyme

Give the details of a short story

Retell a short story telling the beginning, middle and end

Print basic sentences

Actively listen

Wait for their turn to speak in a discussion

Repeat directions

Participate in dialogues with teachers and friends

Work with others to solve problems

Sort and classify several items

Recognize, identify and print digits

Count aloud by ones, fives and tens

Name ordinal numbers from the first through to the tenth

Add using manipulatives

Subtract using manipulatives

Understand and describe spatial relationships such as in front, behind, over, under

Compare quantities of items

Gather and use information to create graphs

Recognize, identify and create simple patterns

Count coins

Tell the days of the week and the months of the year

Tell the current weather



For more information on preparing your child for grade school through early childhood education in the McKinney Tx area, contact the Heritage Learning Center at 972-782-4464 today!
Heritage Learning Center | Early Childhood Education McKinney Tx | 972-782-4464