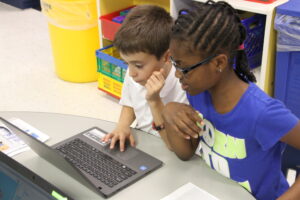 The internet can be a valuable source of information and knowledge, even for your little ones. Educational websites and applications designed for small children continue to develop and grow in popularity. There is a vast array of entertaining activities and interactive games that can help your child build their knowledge and understanding of colors, numbers, letters, principles of music, etc. With the click of a few buttons, the following collection of websites and applications can transform your child's learning experiences for the better.
Here's our updated list of the best websites and digital learning apps for preschoolers. Assembled by Heritage Learning Center in McKinney, TX. Preschool, K-5th before and after school.
Funbrain Jr is an app with a unique variety of interactive games, intended to help your child develop a passion for learning. No matter their age, Funbrain Jr helps advance early literacy, math, and problem-solving skills.
Curious World is an educational resource that helps prepare your child entering kindergarten. This customizable app is perfect for parents looking to fuel their child's curiosity through hundreds of different games, videos, and interactive activities.
Nick Jr. can transport your child into the setting of their favorite shows like the Wonder Pets, Dora The Explorer, or Max & Ruby, through a range of interactive activities, crafts, and games. Connecting academic exercises with their favorite shows and characters is a great way to develop essential math and reading skills.
Sprout is full of simple crafts, games, and coloring exercises that can keep your child occupied for hours. Not to mention, Sprout's design and parent community keep you up to date on new games, free events, and special programming.
PBS Kids has a longstanding history of supplying top-notch educational content for children seeking to learn and explore the world around them. On top of the wide range of educational programming, PBS kids supply a library of printable learning activities.
Starfall is perfect for a small child, committed to learning ABC's and reading fundamentals. The Starfall app and website, supply a range of toddler-friendly activities that concentrate on reading, phonics, and math, through educational games, movies, books, songs, and more.
Boowa & Kwala are cartoon characters that lead your child through more than 500 different sorting games, musical exercises, guessing games, decision games, mazes, and puzzles.
Farfaria is an app with hundreds of different magical stories, keeping your child excited and engaged in the process of expanding critical reading skills.
Spatulatta offers your child beginner cooking tips and recipes while encouraging them to eat well, understanding the significant farm to table relationship.
Of course, the following collection of websites and apps constitute only a portion of the endlessly available digital learning tools and apps for children. For more information on early childhood development, educational resources, or high-quality childcare, contact Heritage Learning Center in McKinney, TX, today!