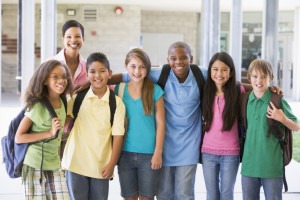 Getting your child ready for the first day of school is exciting and stressful, no matter how old they are. It is even more stressful when it is the first time you send your child to preschool. As you are trying to figure out everything else that you need to know before your child starts school, making sure they have all the items they need is usually at the top of the list. Heritage Learning Center strives to make sure you and your child are prepared for preschool.
What to Pack for the First Day of School
Backpack
A backpack is an essential item that your child brings on the first day of school. Not only will it be used to carry most of the other things on this list along with their supplies, but it also is vital for bringing back anything that your child's teacher sends home. It is also essential to make sure your child's backpack has your contact information on it. Odds are at some point; your child will lose their pack. So, having your contact information on there will make it much easier to recover. Many parents opt for using luggage tags. There are tons of options, and they are easily interchangeable.
Naptime Items
Making sure your child has all the items they need for naptime is always essential. Some schools supply cots, whereas others may expect you to bring a nap pad. Making sure you know everything they need ahead of time is critical. Make sure you do not forget a a blanket. One frequent recommendation is that the blanket is not too heavy. Usually, the classroom will not be cold, so this is more of a comfort item.
Extra Clothes
This one is especially important for children just starting preschool. Be sure to include a full outfit, socks, and some extra underwear. Even if your child is potty-trained, accidents happen. Also, kids are just messy. If someone spills juice or food on your child's clothes, you want them to be able to change.
Medication
This is by far the most critical item on the list. It might sound like a no-brainer, but there is so much going on on the first day of school that some things slip through the cracks. In addition to remembering their medication, make sure your student's teacher/school is notified of their allergies. Most schools have procedures for making sure all the right people aware of every student's allergies/medical conditions, so it is essential to know these as well.
Lunch Box
Last but not least, the lunch box! If your child is bringing food to school, a lunch box is the way to go. There are tons of different options, and your child will have a blast picking one out. Remember to check your child's school's lunch policy. Many schools do not allow them to bring foods with nuts, or other common allergens.
Making sure your child has everything they need to start the school year in McKinney, TX off right is incredibly important. For more information on the award-winning Heritage Learning Center, please contact us today!