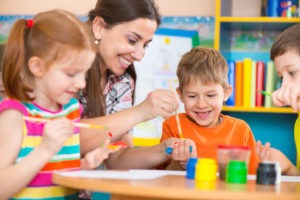 Naturally, you want award winning childcare in McKinney for your kids, but finding the best childcare center is about more than the prestige that awards represent. It's important to find out what about the center makes it worthy to be considered among the finest. Overall, it's mostly about the kids and ensuring that they're in a safe, stimulating, and nurturing environment.
Enriching Educational Experiences
When it comes to award-winning childcare, McKinney parents want more for their kids than just a babysitter to supervise their day. When children spend several hours away from home, whether it's out of necessity because both parents work or because parents want to broaden their kids' horizons, Parents says it should be in an environment that encourages creativity and offers plentiful learning opportunities. Of course, the activities should be age-appropriate and presented in a curriculum designed by education experts. The best preschools introduce kids to social skills as well as the alphabet, reading, and writing.
Safe and Spacious Play Areas
Award-winning childcare provides kids with ample space to play and learn, and the conditions are sanitary and clean. There should be basic safety rules in place, and everything from toys and play equipment to the structure and appliances should be sturdy and in good repair. BabyCenter reminds parents that a great childcare center doesn't just have a large and well-stocked outdoor play area, but also has sufficient room inside the facility, too.
Individual Attention
A small teacher-to-student ratio is another hallmark of a great childcare center. Depending on the age range and size of the group, that can be anywhere between 1:4 and 1:10. That small of a ratio gives teachers a chance to work with individual kids as well as the whole group, according to GreatSchools.org. With that advantage, teachers can identify individual children's strengths and weaknesses so the curriculum can be altered when necessary for those kids.
When you enroll your preschooler in the Heritage Learning Center, she'll have all the benefits of award winning childcare in McKinney. Classes are available for 18 month-olds, 2 year-olds, 3, and 4 year-olds. The education experts at Heritage know that kids are growing and learning fast in those pre-kindergarten years, and each succeeding class offers children a successively advanced curriculum to prepare them well for kindergarten and beyond. For nearly 30 years, the Heritage Learning Center has offered childcare that enriches, and it's been voted the best childcare center in McKinney for 6 years running. At Heritage, your kids will experience fun along with learning in a safe and loving environment.
[osky-citation keyword='Award Winning Childcare McKinney']