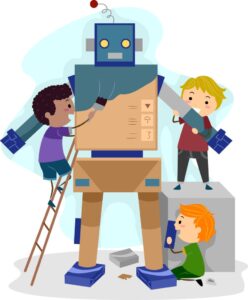 From learning shapes and colors to reading and doing simple math, the importance of early childhood education is easy to see. Unfortunately, many parents do not realize the benefits of preschool for their young children. Through preschool, your child will gain the foundation needed to help them through elementary, middle and high school grades. With these unique early education tools, preschool teachers and staff will help your child with the reading, writing, math, science and socialization skills they will need throughout their educational career.
STEM Products
You may not think your young child has the ability to learn science and technology, but that is not the case. STEM, or science, technology, engineering and math, are crucial subjects for young children even if they have no desire to become scientists or astronauts.
More and more early childhood education facilities are incorporating products that promote STEM. Play mats that offer a realistic look and feel of nature are great options. Mats may feature looks with grassy, sandy or rocky feels, allowing young children to sit on, play and learn about the different "terrains."
In addition, STEM-learning tables are must-haves for early education centers. These interactive tables feature different stations for children to play, observe and experiment. Many of these tables feature magnets, microscopes and other STEM tools and activities.
Healthy Kitchens
Visit most daycare centers, preschools and kindergarten classrooms, and you will most likely find a kitchen playset. These playsets feature play pots, pans and appliances designed for children who want to pretend and play dress up. Unfortunately, most of these playsets feature artificial food that should not be considered healthy.
Since so many parents are teaching their children to make better decisions in terms of health and wellness, consider having a kitchen playset that features healthier options. Artificial foods should include more fruits, vegetables and proteins as opposed to cakes, cookies and ice cream.
Motion Stools
Certain disorders, such as ADHD and some cases of autism, cause children to be more active than others. Being hyperactive is not a negative behavioral issue, so parents and teachers should not punish the child by separating them from the rest of their class. Thankfully, motion stools allow these active children to remain with the class.
Children can sit on the stools during instructional time and move on the seat without interrupting the class. The stools are safe and effective for children who require a bit of movement while still participating in structured education.
To learn more about the benefits of early childhood education and these innovative products, contact Heritage Learning Center in the McKinney, TX, area at (972) 782-4464.
[osky-citation keyword='Early Childhood Education McKinney TX']