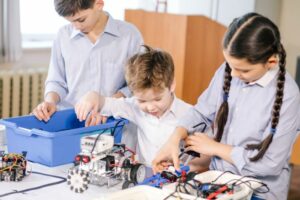 STEM learning involves activities in science, technology, engineering, and math. Young children are exposed to STEM activities in their early childhood education classes. Through activities like growing plants, designing and building structures, and collecting data, children develop essential 21st-century learning skills including problem-solving, collaborating, communicating and critical thinking. The following tips will help you to support your child's STEM learning.
Everyday Encouragement
Young children require support from adults in order to develop their STEM skills. You can help your child's development by asking specific questions that develop critical thinking. Take note when your child is able to solve a problem through scientific inquiry related to their activities. Encourage your child to keep trying to solve a problem even when it becomes difficult. Help them find a way to get the help needed from a different source. Show your child how STEM connects to everyday experiences by asking what, who, where, when, why and how questions in daily situations.
Local STEM Groups
Make plans to take your child to a local STEM museum or library. Consider registering your child with an afterschool STEM program. There are many social groups that provide children with exciting STEM opportunities. Girl Guides, Boy Scouts, and 4H are just a few of these valuable organizations. These groups and resources can positively impact your child's STEM learning.
Bedtime STEM Discussions
Use bedtime as an opportunity for reading both fiction and non-fiction books. Put aside a half hour to read with your child and discuss new concepts introduced through informational text. Speak with your local librarian about borrowing books involving math concepts. There are a variety of non-fiction books that detail math ideas as well as fiction books that use storylines to explain mathematical facts.
Classroom Extensions
Speak with your child's classroom teacher about specific STEM learning that is going on in class. Many teachers build learning activities around general themes. Find out what themes your child's teacher is using. If possible, ask for a calendar of future themes as well as so that you can prepare home activities and discussions that support your child's STEM learning at school.
Whenever possible take the time to support positive attitudes about STEM. Help your child understand the opportunities available through the exploration of science, technology, engineering and math activities. Be confident in your influence on your child's STEM capabilities. Most importantly, be constantly curious and have fun with your child!
For more information on STEM learning in early childhood education classes in McKinney Tx, contact the Heritage Learning Center at 972-782-4464 today!
Heritage Learning Center | Early Childhood Education Classes McKinney Tx | 972-782-4464