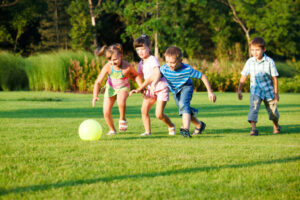 Summer camps are one of the best parts of summer for many families, but what are the benefits of Summer Camp for preschoolers? They give parents another child care option, and they allow children to make new friends, learn new things, and develop their social skills. Many parents tend to think this is only an option for elementary or middle-school-age children; however, there are also a variety of summer camps for preschoolers or even toddlers! Some parents are understandably a little hesitant to send younger children to summer camp for preschoolers, but going to camp is very beneficial! Namely for children going into preschool or kindergarten. Check out the reasons why we think every child can benefit from a McKinney, TX, summer day camp.
Self-Confidence
Self-confidence is essential for children, even more so for those going into either preschool or kindergarten. In summer camps, children might have to do things that take them out of their comfort zone. After overcoming something like this, children feel confident and proud of themselves. This feeling of self-confidence is something they will undoubtedly bring with them when they enter grade school!
Structure
For children going into kindergarten, summer camps can provide them with a preview of the more structured experiences that they will have as they enter grade school. They will learn about schedules, group etiquette, and, hopefully, to be responsible for their belongings while they are at camp.
Independence
In the same vein as structure, even day camps can get children more accustomed to being away from their parents for an extended period. The ideal situation here is that by the time they go to the school that first day, those first goodbyes won't be quite as tricky. Not only that but being independent also encourages children to develop social skills and make friends. More importantly, this allows children to make friends independently, rather than making them based on convenience.
Social Skills
Developing social skills and manners are incredibly important for children as they move on to preschool and elementary school. These skills will affect how they form friendships, manage conflicts, and interact with their teachers. Camps also include many teambuilding activities that will help children learn teamwork and coordination skills. Summer camps also have the potential to expose your child to other children from diverse backgrounds.
The Great Outdoors
Summer day camps also have to potential to get kids outside and enjoying the great outdoors! In fact, according to The Nature Conservancy, only 10% of children spend time outdoors every day. Instead of plopping your child down in front of the TV while you work from home, or being inside at daycare all day, a nature camp allows them to enjoy the great outdoors!
Summer camps are a fantastic way to expose your child to new things, meet new people, and develop social skills that they will need for elementary school and beyond. For more information on the summer programs that we offer, please contact the Heritage Learning Center! Heritage Learning Center is an award-winning preschool in McKinney, TX. We have been preparing children for elementary school since 1987! For more information on who we are and all of our offerings, please give us a call!