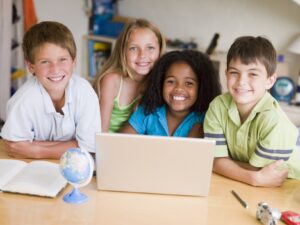 A variety of after school programs in McKinney TX can be found; that's not the problem. Finding the best one for your child, the one that meets their needs, is the tricky part. Some students are ready to have a break after school, while others want to continue to learn. Having the best of both worlds is a winning combination.
Every parent should want their children to develop their full potential. Today's society is high tech especially for children. Not just TV but video games, iPads, iPods, cell phones, and lots more are right at a child's fingertips. Technology is hands on learning that takes place in such a way that it might just be mistaken for a fun time at play.
Back to school lists for some children have come a long way from paper, pencils crayons and glue. Don't be surprised if laptops, computers, and other forms of smart devices have made the list. Purchasing technology and learning how to function with it is a gift to a child's future. There is a big chance that technology will play a role in their employment of tomorrow.
After school programs in McKinney TX and elsewhere are catching on to the needs of kids. Recognizing the benefits of a tech charged program can be a very positive influence in the growth of a child's mind. Children need access to technology that is appropriate for their age and needs. This new learning method doesn't replace basic learning techniques and skills that are taught at school. This new knowledge is to enhance and support.
Children love to learn through the tried and true method of hands on experiences. Technology creates more opportunities for this interactive learning style. A variety of programs in the area of reading, math, science, to name just a few, can be found. Often through use a new world can be opened to a child's eyes.
Always the safety of the child and the mediums that they have access to are closely monitored. An abundance of resources are just waiting to be discovered. Educators and parents have a responsibility to make sure that what a child sees and participates in is age appropriate.
Heritage Learning Center offers after school programs in McKinney TX that has the bases covered when it comes to your child and technology. We are ready to guide your child on an educational path of fun learning. Take advantage of a program designed to spark interest and fulfill the need to want to learn more in the area of technology. Give us a call at (972) 782-4464 or come by and see what programs we offer and invest in your child's future.
[osky-citation keyword= 'After School Programs McKinney TX']
Reference:
phys.org/news/2013-01technology-essential-children-success-professor.html
Photo Credit:  ©Depositphotos.com/ monkeybusiness