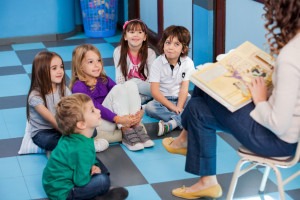 Most working parents with school age children aren't able to leave the office when the final school bell rings, and that's okay, thanks to after school programs in McKinney, TX. These programs can ensure your child spends their after school hours in a fun, safe, loving environment until your work day is done. Your child will have a blast, and you'll have peace of mind.
What Kids Love about After School Programs in McKinney, TX
Nutritious snacks: Kids are often ravenous after a long day of learning at school, but not to worry, they'll be given a nutritious after-school snack at Heritage Learning Center.
Fun activities: Kids often need to blow off a little steam after school, and after school programs in McKinney, TX are just what the doctor ordered. Heritage Learning Center has all kinds of fun stuff, from an arcade (no quarters needed!) to a big screen TV and Nintendo Wii. There's also a library and arts and crafts room. Surrounded by kids their own age, there's zero chance your little one will be bored or lonely. Heritage Learning Center separates children based on age to better provide developmentally-appropriate toys and activities.
Extracurriculars: Busy families often have a hard time squeezing in those fun extras, like karate, piano lessons and dance class. After school programs in McKinney, TX help make that happen by partnering with local teachers and studios to provide extracurricular activities at an additional cost. The convenience can't be beat, and your child will be having fun and learning valuable skills.
Special events: During the summer months, your child will enjoy Heritage Learning Center's large, above-ground splash pad, as well as special events like a County Fair day.
What Parents Love about After School Programs
Homework assistance: Your little scholar will be able to get a jump start on their homework while at their after school program. That means more family time in the evenings, and less homework frustration for parents.
All-day care: Heritage Learning Center also provides all-day care during school breaks and holidays, including summers. Your child will enjoy the same fun and educational activities they do after school, plus exciting field trips like swimming, laser tag and the aquarium. Heritage Learning Center provides a hot lunch and snacks during all-day care, so there's nothing for you to worry about. Parents love the convenience of not having to coordinate additional care for holidays and breaks.
Your child will look forward to seeing their friends and teachers at Heritage Learning Center. For the best after school programs in McKinney, TX, call Heritage Learning Center at (972) 782-4464 today.
[osky-citation keyword='After School Programs McKinney TX']