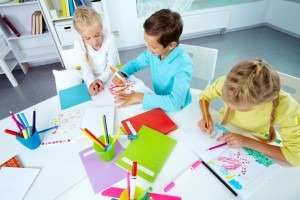 After school programs in McKinney, TX offer more learning and fun for your children. What do your kids do when they get home from school? Are you able to be there when they get off the bus? Parents live busy lifestyles these days, often working more than one job. Do your children come to an empty house where they'll probably spend their time until you get home watching the television?
With after school programs in McKinney, TX you know your child is in a safe place where they continue to learn and even have fun. Our after school programs offer many great things for the children that are signed up and participate. Not only do your children have fun while they continue to learn, but you, the parent, spend less time stressing about what your young child is doing after school while you are stuck at work.
Fun Field Trips
Children love to get out and learn. Field trips to museums and other fun things happen during the school year and even in the summertime. Many museums offer hands-on learning for children, which helps them learn and remember. Most children learn best through touching and experiencing, and field trips allow them to do that in more places than just the classroom.
Time  For Homework
After school programs aren't always just about fun, though. If your child is having trouble with homework, there is staff on hand to help them out. This one-on-one homework time helps keep you, the parent, from needing to relearn math and science on top of all your other responsibilities. The way kids learn changes throughout the years, and so does the way they are taught; we can help with that.
Fun In The Sun
Our facility has its own water park, where kids can spend hot summer days having fun in the sun and in the water. Summer is also a great time for your child to enjoy magicians, puppet shows, and other fun things that our programs have to offer.
Heritage Learning Center Has Great After School Programs in McKinney, TX
We have many activities for the children; the different fun rooms set up for kids of all elementary ages include our own exciting arcade and rooms for adventures and exploring. If you want your child to be in one of our great after school programs in McKinney, TX, please call (972) 782-4464. At Heritage Learning Center, we are looking forward to helping your child continue learning and having fun, even after school lets out for the day.
[osky-citation keyword= 'After School Programs McKinney TX']