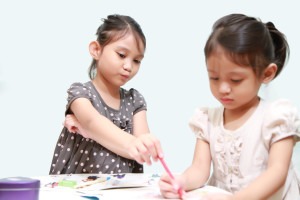 The hours after kids are out of school and before parents get off work are ones that can be used to help shape your child and his future. High quality after school programs in McKinney TX can improve kids' academic performance and classroom behavior, as well as benefit their health and nutrition, according to Youth.gov. Additionally, knowing your child is in a safe, structured environment when you cannot be there brings peace of mind. It is one less thing you have to worry about if your kids are being supervised by trusted adults who can help them with their homework and organize fun, educational activities that make their after school hours time well-spent.
The After School Alliance lists ideas for after school programs that ensure all four areas of health, nutrition, academic performance and classroom behavior are addressed. When you are looking for good after school programs in McKinney TX, look for ones that offer nutritious snacks and/or meals. A snack or meal after school helps cut down on childhood hunger and encourages healthy weight in kids. With their bellies satisfied, kids are well-fueled for doing homework or participating in any of the activities the program offers.
As for the programs, effective after school centers provide an array of intellectual and physical activities. Classrooms or computer labs should be available for kids to do homework, with adult monitors present to help those who get stumped by difficult subjects. The physical activities give kids an outlet for pent-up energy after a day of sitting at a desk. Quality after school programs often offer dance classes, karate, or tumbling, and some organize little league-style sports such as basketball or soccer. At the very least, a supervised gymnasium or play yard should be available for kids to let off steam. Programs that go the extra mile have music lessons available on several instruments such as guitar, piano, or violin.
Your search for after school programs in McKinney TX ends with the Heritage Learning Center. Offering all of the elements that make up an effective after school program, Heritage is one of the top learning centers in McKinney. With three licensed directors on staff, many of the teachers are degreed, and all have experience in childcare and education. The classrooms are bright and roomy to facilitate learning, and kids can participate in a range of physical classes and activities designed to promote fitness as well as teach essential skills. Call the Heritage Learning Center today at (972) 782-4464 to schedule a visit and see how your child will thrive in the fun, educational environment.
[osky-citation keyword= 'After School Programs McKinney TX']
Photo Credit:  ©Depositphotos.com/ photobac