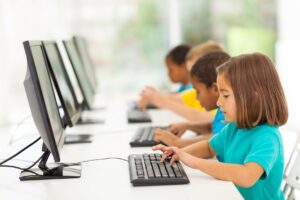 Finding the right type of after school program in McKinney TX is easy with all the options available, but very few that offer such amazing approaches to learning as those at Heritage Learning Center. Who doesn't want their children to enjoy learning? Times have changed and it isn't just about reading books, listening to lectures, taking notes and then taking tests and writing down answers.
This is the age of technology and kids seem to love it. They catch on fast; you might be surprised how many three year olds can maneuver around in lightening speed on a cell phone. Their little fingers move effortless on hand held remotes of video games. Mesmerized for hours. it has their attention so why not use it more for learning. There is an after school program in McKinney TX that kids love and encourages learning on a new home front.
Imagine problem solving activities that spark the desire to find the answers. Fun games like Minecraft that brings out the creative instincts in children and help challenge their minds and give them confidence in their own abilities. Learning doesn't have to be boring and technology opens the door to other approaches.
Reading/learning arts, math and science can all work together to open doors and spark creative juices and endless possibilities. Great minds are being developed to become future scientists, physicians, teachers, engineers and so much more at great after school programs across the nation. Technology invites the development of these skills. Turn on a computer, put those headsets on and watch them fly to new heights.
Children are all about problem solving. It is something that is almost second nature to them. Due to their lack of experience almost anything they approach has questions. They must figure out the answer which is simply problem solving on a constant basis. Children develop their skills of logic through problem solving. Why not make it fun? Games are just one of the genres that foster learning on a variety of levels. Children are all about creative and critical thinking.
With supervision that encourages children through positive feedback kids will flourish. Can you imagine students not wanting to stop what they are doing because they are enjoying what they are leaning and how they are doing it. That should be the aim of all teaching situations.
Heritage Learning Center is the
after school program
in
McKinney TX
where these type of doors open. Let your children experience the fun approaches to old stuff with a new twist on learning.
[osky-citation keyword='After School Program McKinney TX']
Reference:
www.scholastic.com/teachers/article/how-you-can-help-children-solve-problems