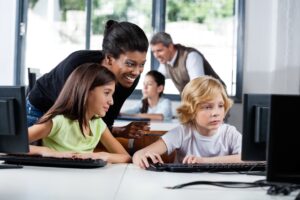 Latch-key kids are nothing new. Whether both parents work or there is only one parent in the home, the After School Alliance reports that over 15 million children come home to an empty house after school. Even for responsible kids, being alone for several hours is a dangerous situation. FamilyEducation.com reports the after-school hours to be the peak time for kids to start experimenting with risky behavior including participating in crime and drug and alcohol use. A solution that is growing in popularity for Texas parents and children is after school programs in McKinney TX. 
These programs provide structured activities in a safe environment to fill the hours between the end of the school day and the end of parents' workdays. After school programs in McKinney TX aren't just safe-houses that act as holding tanks to keep kids out of trouble. They are places where children can learn new skills, perfect an existing talent, pursue a new interest or socialize with kids their age who have the same hobbies. Those opportunities benefit the kids long-term. Education Week reveals that the opportunities after school programs offer act to improve academic achievement. Older kids can even participate in these programs as mentors, helping supervise the younger children, sharing their talents and helping to teach unique skills. The kids who assist via those types of "internship" roles learn responsibility and leadership and get a boost of self-confidence through helping others.
Given the benefits to kids who participate in programs during after school hours, it's logical to conclude that they can be useful even for kids who have someone at home when school's out. Science Daily details how after school programs benefit children in yet another way: positive peer influence. They may be with their friends all day long, but that's in a classroom environment. The environment of an after school program is more laid-back, while still being structured enough to promote learning. It facilitates a connectedness that children need for emotional well-being.
When searching for after school programs, McKinney TX parents and kids find the Heritage Learning Center to be fascinating, fun and educational. Call the Heritage Learning Center today to reserve a spot for your child in an after school program or an individual course — or even to plan a birthday party! It's the place kids discover creative adventures and have endless fun.
[osky-citation keyword='After School Programs McKinney TX']
References:
http://www.afterschoolalliance.org/aa3pm.cfm
http://school.familyeducation.com/school-safety-month/safety/58295.html
http://www.edweek.org/ew/issues/after-school-programs/
http://www.sciencedaily.com/releases/2013/09/130904114835.htm