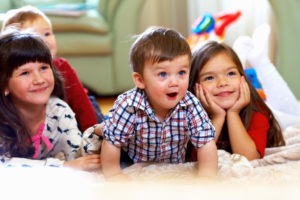 With summer in full swing and your child's school out for the summer, finding shows to keep them busy is a lifesaver! While we do not recommend letting your children watch TV all day, a little bit of educational television is not a problem! However, they must watch shows that are both engaging and informative. We understand that with so many streaming and network options, finding the right program can seem like a challenge. The professionals at the award-winning Heritage Learning Center put together a list of the best TV shows for preschoolers & where to watch them!
Best TV Shows for Preschoolers
The Cat in the Hat Knows a Lot About That (PBS) – In this show, based on The Cat in the Hat's Learning Library books, the Cat in the Hat guides two children on many fun-filled adventures. They even meet some other fun, Dr. Seuss characters along the way! This show is perfect for engaging your preschooler's natural curiosity and helping them learn more about exploration & discovery!
Sesame Street (Amazone Prime, HBO, Hulu, PBS Kids) Yes! Believe it or not, this show is still one of the absolute best shows out there for your child! It is still incredibly informative, and your children will surely enjoy it just as much as we did when we were kids!
Clifford the Big Red Dog (PBS) – Clifford has been around for a while, but the show is still fantastic at teaching children social skills, and helping boost early literacy. Its colorful, imaginative locations, along with Clifford's larger-than-life humor, will keep children engaged and laughing the whole time!
Hero Elementary (PBS) – Hero Elementary is precisely what the title says! It is a TV show about children who are learning to become heroes by mastering their powers. Along the way, the students also explore science and learn problem-solving skills.
The Magic School Bus Rides Again (Netflix) – The Magic School Bus returns, this time with Miss Frizzle's younger sister! Similar to the original, She takes the kids along on adventures where she explores all sorts of scientific wonders! Many parents will remember watching this show growing up, so it'll be a little nostalgia fix for you too!
Ask the Storybots (Netflix) – This show is essentially Bill Nye the Science guy for young children. The episodes answer nearly any question a child could ask. The show encourages their curiosity and keeps your child engaged with celebrity cameos, songs, and sketches!
Odd Squad (PBS) – Odd Squad is perfect for children getting ready to make the transition from preschool to kindergarten. The show focuses on the "Odd Squad" as they complete missions using math & problem-solving skills!
We are Here to Help!
Heritage Learning Center strives to make sure that your child gets the best education possible! So we hope that this list helped you find a TV show that you love for your child and that your little one will also love! For more information on our award-winning  Mckinney, TX programs, or to request a tour, please contact us TODAY!