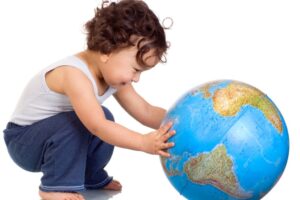 The world is becoming an increasingly diverse place. Teaching your children about diversity is important, but it can also be a challenge. You want your children to be globally minded and to accept everyone for who they are. The lessons your children learn in the real world about diversity may not necessarily be positive, so it's up to you to provide your children with healthy and respectful conversations about differences in race, religion and gender. Diversity discussions at home will provide your children with the tools they will need to have a positive perspective on the world and to build strong relationships with people from all walks of life.
Display a World Map or a Globe
By displaying a world map in your home, you can point to it regularly to have conversations with your children about globally minded topics. A large colorful map or a globe provides a concrete visual cue for discussing events that take place all over the world. These discussions can be great opportunities for talking about a wide range of topics on diversity and create valuable teachable moments.
Sample Food from a Variety of Cultures
Most urban settings have restaurants offering foods from many different cultural backgrounds. More rural locations may not have as many restaurant options, but it is possible to visit the grocery store to buy the necessary food items to cook meals yourself from many different cuisines around the world. Multicultural meals are a terrific way to introduce your children to different cultures and ways of life.
Read Culturally Diverse Story Books
Take a trip with your child to your local library and ask your librarian to help you find culturally diverse picture books. Have your child choose three or four books that they would like you to read with them. As you read the books together at home, talk about the differences and the similarities the stories highlight.  Make connections to your way of life.
Encourage Open Discussions
Whenever your child has questions about different cultures, listen attentively to the questions and take the time to respond openly. Being open will demonstrate to your child that noticing differences among people is natural. By responding respectfully, you will also teach your child to treat every individual with dignity and respect.
Learning to understand and appreciate the differences in race, culture, socioeconomic, gender and ability is a crucial skill in our diverse world. It's important to teach our children to consider all cultural backgrounds and to treat everyone with kindness and respect.
To learn more about cultural diversity contact the award winning McKinney daycare, Heritage Learning Center.  Call (972) 782-4464 today!
Heritage Learning Center | Award Winning McKinney Daycare | (972) 782-4464