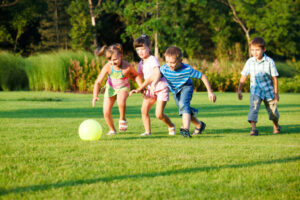 Summertime is that special time of year when schedules are relaxed, and you have more free time to spend with your children. Keeping your children active and engaged can seem like a daunting task. You can make your planning less work and more fun by choosing activities that involve imagination and creativity.  If you have exhausted all of your ideas for fun activities and are looking for more, the following tips may help you in your quest to get the most of your summertime with your family.
Gardening
Most children enjoy the opportunity to get into the dirt and dig. Gardening is a fantastic opportunity to teach your children about the cycle of plants while sprucing up your yard. You can choose to work together on gardens you already have or to create a separate kids garden for your children. Visit your local dollar store and purchase some budget and kid-friendly gardening tools. Look for packages of seeds as well and let your children choose which plants or vegetables they want to grow. Show them how to plant and care for the seeds correctly. Set a schedule for watering the plants and vegetables as well. If you live in a home with little outdoor space, consider using large containers as gardens in place of a yard.
Find a New Play Space
You probably have a playground near your home that you visit regularly. You can add some excitement to your child's playtime by visiting a different play space in your community. Check the website for your town or city to find other playgrounds near your home. There are also play structures at most schoolyards that you may be able to access over the summer months when school is no longer in session.
Shop at Your Local Farmers Market
Check your local newspaper or community website for farmers markets that you can visit with your children. Many of these markets are held one day a week so be sure to check the hours of operation as well. Your children will love checking out the local crafts and treats, and you will be helping the local economy.
Visit a Petting Zoo
A petting zoo is a wonderful place where your children can see and pet all sorts of different animals. Many community organizations offer these types of zoos. The types of animals you may find at a petting zoo include goats, rabbits, and deer. Feed is also usually available, making it possible to feed the animals as well. Your children will undoubtedly have fun getting up close and personal with animals they don't typically get to see.
For more ideas on summer programs for kids in McKinney TX, contact the Heritage Learning Center at 972-782-4464 today!
Heritage Learning Center | Summer Programs for Kids McKinney TX | (972) 782-4464