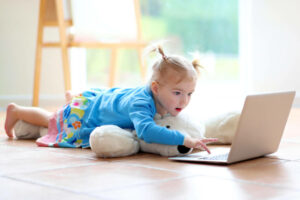 The internet offers many websites for preschoolers that are both fun and educational. These sites provide digital opportunities to learn new concepts and support early learning. Check out the following websites for kids that include games, learning activities, and printables. Once you have had an opportunity to review the sites, you can bookmark them into a folder on your browser and quickly access them with your preschool child. These online resources make it much easier to help your child learn the basic numeracy and literacy skills needed for kindergarten.
At ABCya preschool children can learn letters, numbers, strategies, and skills. The site is divided into color-coded sections that include word, math and holiday games. The simple design makes navigating the site very easy for young children.
Boowa & Kwala has over 500 educational games including decision making, sorting, hide and seek, guessing, and all sorts of puzzles. There are also coloring pages as well as songs and stories for a variety of occasions.
Not only can preschool children learn about numbers and letters at Cookie.com, but they can also get help with English learning skills as well.
By visiting Disney Jr., preschool children have the opportunity to watch videos, color pages, play educational games and develop eye-hand coordination skills.
Education.com has all sorts of creative and colorful activities that help young children learn about letters and numbers.
Fisher Price provides educational activities and games that parents can play with their preschool children. The website offers a wide range of digital activities to help children learn about the alphabet, numbers, shapes, colors and so much more.
Funbrain Jr. helps preschoolers develop early numeracy, literacy, and problem-solving skills through their fun games, stories, and printables. This site enables parents to explore with their children or to allow preschoolers to navigate the digital activities independently.
Orisinal provides a simple design, sweet illustrations, and soft music. The activities available help children with eye-hand coordination, reflexes and mouse skills. Offering a design without flashing images and loud sounds makes the site more enjoyable for children who are easily overstimulated.
The educational programs available on PBS have online learning activities through PBSKids.org. The website offers videos, songs, educational games
Preschool children enjoy the online activities provided by Sesame Street. There are hundreds of videos and games from which to choose to learn about letters, numbers, colors and more.
Starfall is an excellent website that was developed to help preschoolers learn their ABC's and the initial stages of reading. The simple activities are interactive and fun.
For more information on the best websites for your preschool child, contact the early childhood education experts at Heritage Learning Center in McKinney TX. Call (972) 782-4464 today!
Heritage Learning Center | Early Childhood Education McKinney TX | (972) 782-4464