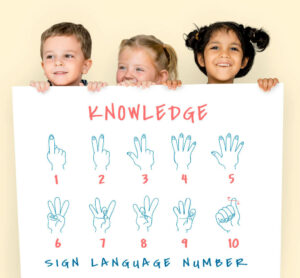 Teaching sign language to young children has become more popular in early childhood education over the past decade. Sign language is an effective tool for enabling children to communicate their thoughts and feeling without the use of words.
The ability to use sign language can be beneficial to young children for several reasons. It opens new pathways of communication for both hearing and hearing-impaired children. Not only is it a fun activity it is an excellent new skill for to learn.
The following are a few ways to teach sign language to your young children.
ABC Flash Cards
Flashcards are an effective tool for teaching sign language. You can find a variety of sign language alphabet cards at your local bookstore or educational outlet. Look for a set that provides full-color images depicting each letter in both sign and text format. There are also many apps available for phones and tablets that you can download to your device. These apps are typically free and straightforward to use.
Games
Once your children have had some experience using the flashcards, you can quiz them by asking them to sign specific letters of the alphabet. You can also show them the sign for a letter and have them tell which letter you are signing. When you know your children have good control of all of the letters of the alphabet, have them spell out words using their newly acquired skill. There are also several apps available for phones and tablets that offer sign language games. Be sure to choose an app recommended for small children.
Books
There are many books available that teach young children how to use sign language. Library books are a terrific resource as you can have access to a wide range of books at no cost. Visit your local library and speak with your librarian about your plans to teach your children how to sign. Your librarian will be able to show where to look and which books are best for every age group.
Videos
Using sign language to communicate uses facial expressions and movement along with hand formation. Videos are another practical resource for helping your young children to develop sign language skills. Your local library may also have videos that you can borrow to show your children how to use sign language in real scenarios. If you are unable to find any videos at your library, visit your local bookstore or educational outlet and speak with a sales representative.
For more information about teaching sign language to your young children, contact the Heritage Learning Center at 972-782-4464 today!
Heritage Learning Center | Early Childhood Education McKinney TX | (972) 782-4464