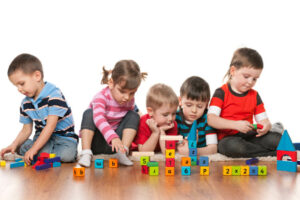 What is successful social interaction and why is it an important focus to look for in your search for the best preschool? It means understanding your emotions, managing them appropriately, having empathy for the feelings of others, handling conflict correctly and making good decisions about your interactions with others. These skills are vital to personal development and can influence successes and achievements in life. These skills do not develop automatically. Children need to learn them, and the sooner you start teaching them how to handle their emotions, the better off they will be.
Awareness of Self
Young children need to recognize that everyone has emotions and understand that feelings can influence behaviors. This understanding begins when you respond to your child's cries. Appropriate responses to cries help children develop a sense of security. As children get older and can express themselves better, you can talk to them about specific emotions including frustration and disappointment. In being able to identify these emotions, your child will better be able to deal with these feelings appropriately.
Managing Self
This skill enables children to manage their emotions. While every child will experience frustration and disappointment at some point, how they behave will vary based on their self-management skills. It is important to model acceptable behaviors to your children so that they see how to act appropriately and manage their feelings. If your child has difficulty controlling negative emotions, consider teaching them how to deal with these emotions through meditation, deep breathing and counting down.
Awareness of Others
It is important to understand and show empathy toward others to develop a positive and active presence in the community. You can help children develop a sense of empathy by showing them you understand and care about their feelings and by encouraging them to do the same. Take them with you as you go out into the community. Model acceptable social behavior and allow them to experience positive social interactions in places beyond their home and school. Being able to interact positively with others is a skill that children will need throughout their entire lives.
Relationship Development
Children need to be able to manage and resolve conflict to have successful relationships with others. As with other social interaction skills, this needs to be modeled and taught. It's vital to show your children that you respect everyone regardless of their differences. It's just as important to show that everyone makes mistakes and to apologize when you make them.
Making Positive Choices
Making positive decisions about acceptable behavior is vital to the social development of your children. Provide your children with age-appropriate responsibilities at home to encourage self-confidence. These activities give them the opportunity to show that they can make positive choices. Be sure to show them how much you appreciate their help and praise them for efforts.
The Heritage Learning Center understands the importance of developing positive social interaction skills. To learn more about developing these core competencies in your children contact the experts at the Heritage Learning Center, the best preschool in McKinney TX. Call (972) 782-4464 today!
Heritage Learning Center | Best Preschool McKinney TX | (972) 782-4464