The first year of kindergarten can feel like a monumental step for children, so introducing important pre-k skills in advance can help both you and your children experience a soothing peace of mind on the first day of class. Part of our goal here at Heritage Learning Center is to be the preschool in McKinney, TX who truly teaches your children what they need to know before kindergarten.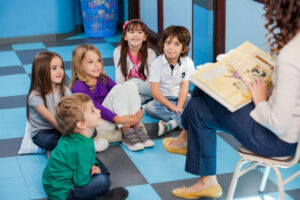 As a concerned parent, it's only natural to question how much of learning should be taught at home. Not to mention, what skills and concepts kids should familiarize themselves with before entering kindergarten. Of course, learning happens at different rates for different children, so cultivating general confidence, independence, and a pure desire to learn are most important.
As a general rule of thumb, concentrate on the following areas of study in preparing your child for kindergarten. Many of the following exercises fall under the subject areas of reading readiness, listening and sequencing, sizes, positions, directions, motor skills, and social-emotional development.
Encourage Genuine Curiosity
Allowing and encouraging creative play helps children develop executive functioning skills that improve their ability to make decisions, multi-task, and exhibit resiliency in everyday tasks. Try replacing video games and TV with building activities, using lego or wood blocks to simulate the construction of a city or hospital. Helping children make confident decisions in a safe environment can go a long way.
Begin Learning About Letters
Try making the task of learning specific letters and sounds an enjoyable experience. These fundamental skills can be taught using flashcards, letter blocks, or interactive apps tailored to early childhood learning.
Practice Writing Names
While children are not required to know how to write their names right away, most of them enjoy learning how. Aim for legibility, rather than perfection. They will have more than enough time to practice once school starts.
Master Common Words
Simple words like "she, said, my, have, here, been, and was" are important words to know, yet difficult for some kids to understand and properly pronounce. Work to point out and practice these words through books or interactive learning activities.
Practice Decision-Making
Practice decision-making skills through less meaningful play situations. How tall should the lego tower be? How many windows should it have? Etc. Asking children to lead the way helps them comfortably adjust to making decisions at school and later in life.
For the sake of convenience and ease, help your children learn how to tie their shoes, button their shirt, zip their pants, and properly use the bathroom. Teachers always love a kid with a little extra know-how.
Memorize the Essentials
Work to help your children remember vital information like their last name, address, and phone number. Try using association techniques like pairing the information with a familiar song or tune if they struggle to remember specifics.
While this list encompasses just a few essential suggestions, hopefully, some of the following tips will come in handy when preparing your child to enter kindergarten. For more information on childhood development or specialized child care in the McKinney, TX area, contact Heritage Learning Center today.