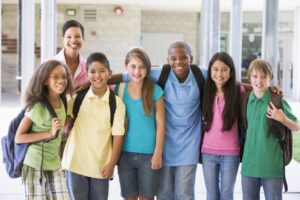 The Heritage Learning Center has the best After School Programs available in McKinney TX. Our services give your child a safe, comfortable, and fun place to go after school while you are needed elsewhere.  If you're not already taking advantage of the Heritage Learning Center's After School Programs in McKinney TX then you may not know what you and your child are missing. To help you make an educated decision on your child's development, here are three excellent reasons why your child should be furthering their education with us.
1) Homework Assistance. Our qualified teachers can help your child succeed in their normal schooling. Sometimes parents think that after school care is simply a babysitting position that keeps a child out of trouble. However, we do so much more, and it all starts by reinforcing their school lessons, and helping them retain it while performing at their best.
2) Expanded Horizons. You may fear that your child will simply become institutionalized by spending so much time with education professionals, but our programs are designed to help children learn more about themselves and the world through numerous field trips. Especially during holiday seasons, when kids are out of school but you may still need to work, our staff takes the opportunity to get out of the classroom and learn about the world. Hot lunches and snacks are provided at no further cost.
3) Extracurricular Opportunities. For an additional cost, your child can participate with any of our partnered clubs and instructors, including piano, dance, and karate lessons. During the summer our students can enjoy even more craft and skill experiences, such as swimming, pottery art, indoor rock climbing, and more. Keeping your child active and growing of highest importance to us.
As a parent you deserve the peace of mind that comes with having your child protected and taught by people you trust. Each of our teachers and administration workers are here because they love teaching and helping children be their very best.The Heritage Learning Center invites you to contact or visit us today so you can see for yourself that we are the most balanced and best After School Programs in McKinney TX.
[osky-citation keyword= 'After School Programs McKinney TX']
Photo Credit: @Depositphotos.com