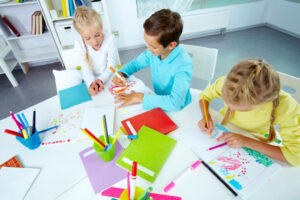 Summertime is known for good weather, fun and family adventures. Unfortunately, it's also when children experience the "brain drain." Being away from school and educational activities can cause a child to lose some of the information they retained during the year. This absence of educational activities can also result in a lack of confidence when it's time to return to class.
Although parents can undoubtedly keep their children engaged during the summer with at-home activities, sometimes, that isn't enough. Fortunately, summer enrichment programs are available to help keep your child's brain sharp and ready for the new school year. But are they what is best for your child?
Does Your Child Need Help Being Active?
Along with keeping your child's brain healthy and active, it's essential to keep their bodies that way, too. All too often, children entertain themselves during the school break with video games and other screen time activities, instead of spending time outside. The result is children who become restless, as they aren't giving their bodies the movement they require.
Summer programs often give children the push they need to get outside and get the exercise their bodies crave. Having an encouraging staff and friends to spend time with also keeps them entertained and having fun.
Does Your Child Need Help Learning?                            
The school break is an excellent time to gain additional instruction on topics in which your child may be struggling. A program that offers help with these subjects can help your child become prepared for the next school year. It may also help them grow familiar with some of the subjects and new skills they'll learn in the next grade. The result is often confidence coming into the school year.
Does Your Child Need Help Making Friends?
Summer enrichment programs help children learn how to make new friends. They encourage socialization and can build self-esteem. Your little one will likely gain the skills needed to communicate with their peers and connect with them on a friendship level. Attending a summer program can also help them feel good about themselves because they are part of a team. This type of environment offers encouragement and fun and may prepare your youngster for meeting a new class of students when the school year resumes.
Heritage Learning Center Can Help!
If you want to give your child the best shot possible at a rewarding and stimulating school year, begin in the summer. Heritage Learning Center offers summer enrichment programs in McKinney, TX, that may be just what your little one needs to make this year their best yet. Call (972) 782-4464 or visit https://hlc.info/ to learn more!

Heritage Learning Center | Summer Enrichment Programs McKinney TX | (972) 782-4464