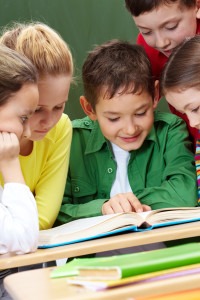 Many parents are struggling to take on the role of their child's teacher while their children are forced to learn from home due to the COVID-19 pandemic. This is especially difficult for parents whose children are not quite reading on their own yet.
Even though we are unable to have your children, at school, the educators at Heritage Learning Center, an award-winning McKinney, TX daycare center, still want to help parents in any way we can.
One way that we would like to do this is by giving parents a list of books that they can read aloud with their children. We compiled this list of some of our favorites, that both parents and children will enjoy.
Toot & Puddle – Holly Hobbie
Toot & Puddle are best friends, even though Toot likes to travel and Puddle likes to stay at home in Woodcock Pocket
There's a Wocket in My Pocket – Dr. Seuss
As Dr. Seuss's first book, this one is an absolute classic. The book follows a child as he explores the house and finds a bunch of fun characters along the way! This book is a ton of fun, and your child might even go see if he can find some around the house!
Goodnight Moon – Margaret Wise Brown
This timeless classic is perfect for bedtime, and will be a nostalgia trip for parents!
Harry Potter and the Sorcerer's Stone – JK Rowling
Another absolute classic. This one might be for slightly older children, but this is one that will surely entertain both parents and children alike.
We hope that this gives you a few options for things to read with your children in order to keep their literacy progressing while also having a great time as a family!
For more information on early childhood development, educational programs, or high-quality childcare, contact Heritage Learning Center in McKinney, TX today!